Nainital: The Lake City Of India
Nainital is one of the most beautiful and visited places in the state of Uttarakhand and is located at an altitude of approximately 2084 m above sea level.
It is covered with beautiful mountains with Nainital Lake in between, which is the main attraction for Tourists.
Its Climate which is favourable all year round makes it the perfect Tourist spot for everyone around. The Nainital lake is covered from many attractions around, such as Naina Devi Temple and the Tibetan market with multiple food shops. It is also considered as one of the most Budget-friendly and famous Tourist spots when it comes to Hill stations.
Best Season to Visit Nainital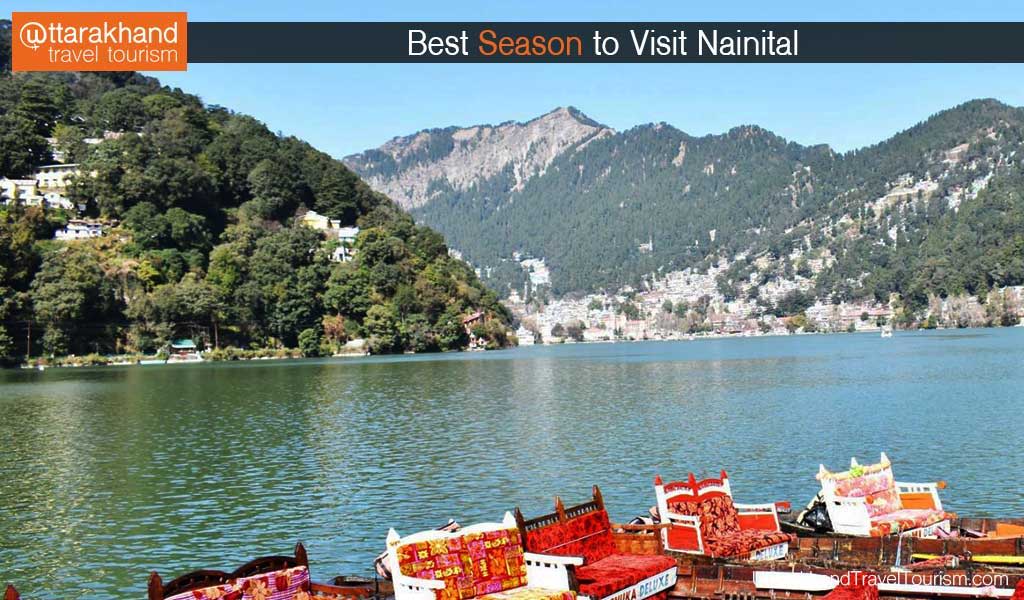 Nainital is an all-time tourist place as its weather is amazing all year round. But the best seasons to visit Nainital can vary as per your preferences. People prefer to visit Nainital in Summers from March to June when the peak temperature is around 28° C and the minimum temperature is 10° C.
While in Winters people prefer to visit Nainital from October to February when the peak temperature is around 14° C and the minimum temperature is 2° C
History of Nainital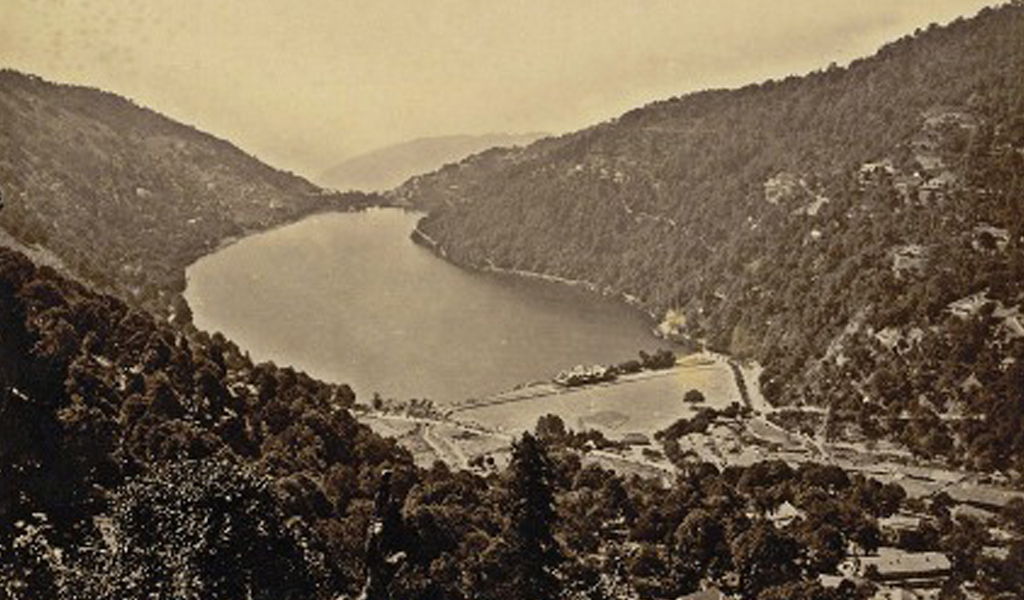 Nainital was founded in 1841 by P.  Barron, a sugar trader from Shahjahanpur. First Pilgrim Lodge called European house was also built by P. Barron in Nainital. The weather of the place attracted Britishers towards it, soon many colonial officials, British soldiers, and their families came to Nainital trying to get away from the heated weather of the plains.
Soon they built lodges and cottages in Nainital and made it their Summer escape, Governor of the United Provinces also used to live in Nainital during Summers.St. John(Church) was built in 1846, and was one of the earliest buildings in Nainital. Ashdale Cottage, Alma lodge, Belvedere were built after that.
Many Landslides shaped Nainital geographical structures. In 1866, there was first known landslide in Nainital, which destroyed Old Victoria Hotel and after that followed another landslide in 1869 at the same spot with minimal destruction.
On 18 September 1880, another landslide followed which was most destructive in nature killing 151 people (108 Indians and 43 Europeans) in the north end of the town.
Due to its destructive nature, it's also called "the great slip".After Britishers started migrating to Nainital, multiple schools and colleges were built for their children. Diocesan Girls High School (All Saints College) was established in 1869.
Some other schools are Diocesan Boys School (Sherwood College), Philander Smith's college (Birla Vidya Mandir), St. Joseph College ( SEM), St. Mary's Convent High School (Ramnee) were some of the schools and colleges built in those eras.
Nainital Tourism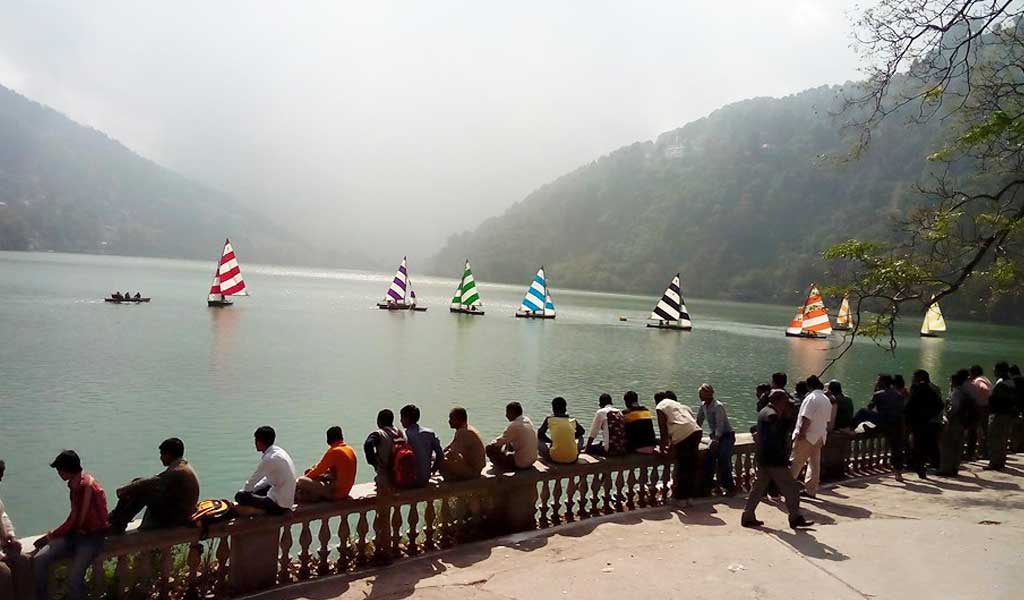 Nainital is highly popular among tourists for its beauty in all weather that is suitable all year. People mostly visit Nainital from India and Internationally during Christmas to New year's celebration and Summers.
These are considered to be the peak time of Tourism in Nainital. Nainital is the perfect destination for Honeymoon Couples, Adventure seekers, wanderers, escapes from busy routine, Religious and spiritual seekers as well.
There are a number of places in Nainital that are must-visit for everyone. Nainital Lake boating, Tiffin Top Trekking, Naina Devi Temple, Mall Road, Tibetan Market and many more.
Also if you have time, there are a number of beautiful nearby attractions that you must visit.
Things to do in Nainital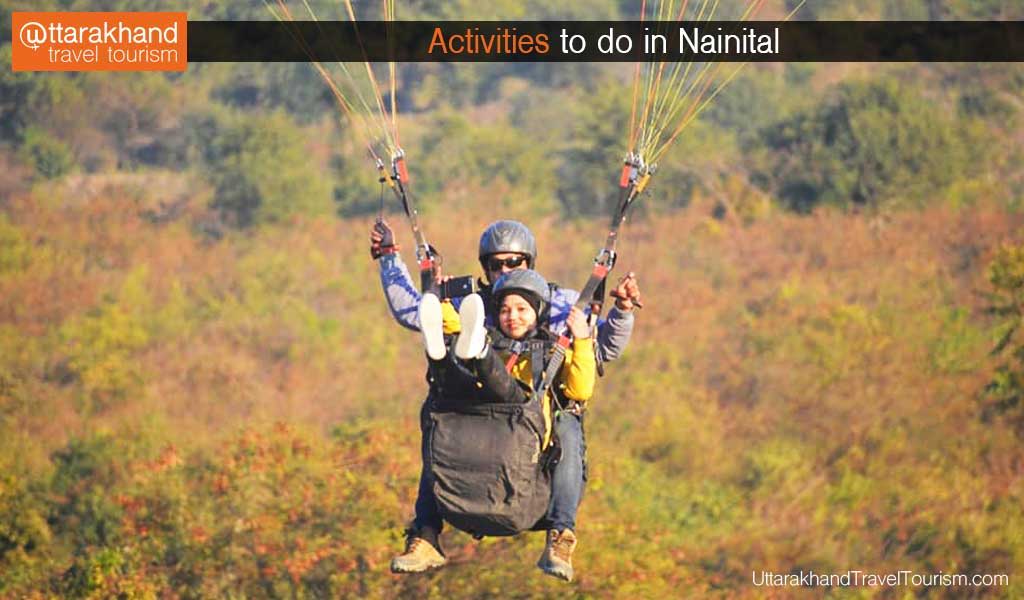 1. Trekking in Nainital:
Nainital is a great spot for Adventurous activities. Some famous Trekking spots in Nainital are Kunjkharak, Guano Hills, Naini Peak-Pangot Trek, Land's End, Snow View Peak, Tiffin Top Etc. All places in Nainital are safe for Trekkers, apart from heavy rainfall and snowfall is not a good season for Trek.
2. Camping and Bonfire in Nainital:
Camping is an Ultimate experience with starry nights and cold weather. There are multiple groups that can arrange camping and Bonfire for you, else you can bring your own Camp and start to enjoy your group.
3. Photography in Nainital: 
Capturing the amazing beauty of Nainital should surely be added to your list. Beautiful views of mountains from the Top hills will make your day. There are many photogenic places in Nainital where you can flaunt your photography skills.
4. Adventure sports in Nainital: 
Nainital is heaven for adventure seekers. People can enjoy Paragliding, Horse riding, Parasailing, Trekking, Camping, Nature walks, Yachting, Mountain Biking, Rock Climbing, Caving, River Rafting, etc. All of the activities will be provided to you by your package provider or the local one you booked. All the adventures are advised to be done under safe guidance for security reasons.
5. Sightseeing in Nainital:
When in Nainital, one day is not enough for only Sightseeing. Nainital is fully loaded with the most attractive shopping spots, Food stalls as well as adventure spots. Starting from Temples, Tibetan market, Mall Road, Best Momos stall in Tibetan market, Cave Garden, Snow View, Appu Ghar, etc.
Exploring Nainital would be the most amazing experience for you. The weather will add a sense of comfort if you are escaping the summer heat. Do visit Nainital in Winters to experience the amazing beauty covered in Snow and this view makes this small town look stunningly speechless.
6. Birding in Nainital: 
If you are a bird lover and have the curiosity to know about them, then yes it is the right place for you. Nainital provides you with a variety of places to follow your Birding experience. Places where you can visit are Sattal, Pangot, Mukteshwar, Corbett National park etc.
7. Yoga and Meditation in Nainital:
Celebrated as a place for inner peace, Nainital is famous for its beauty as well as retreat camps for yoga retreats, wellness and Meditation. Not quite required for a wellness package if you are a loner and enjoy sitting alone in places of your choices. But for people who want to enjoy some supported arrangements places like Karvaan wellness and yoga retreat, Muskotia resort etc
Places to visit near Nainital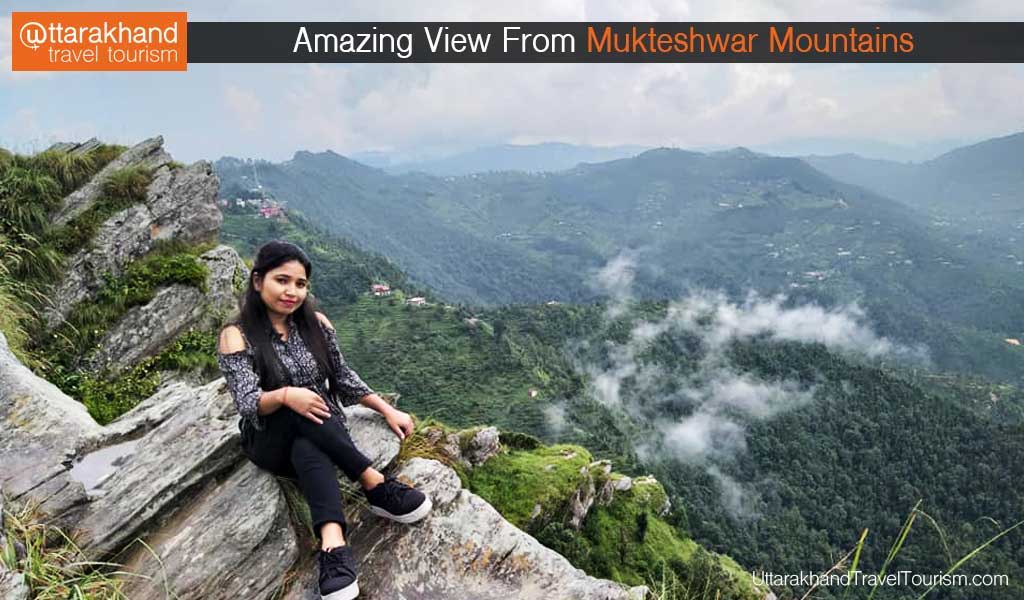 Nainital in itself is a 2-3 days travel experience but if you are a bit of a luxury traveler and don't want to walk a lot, then there are more places in Nainital for you to visit nearby. Although every other hill place in Uttarakhand is a Tourist place here is a list of places in Nainital you can visit :
Bhimtal: 
A town in Nainital District, which is at a distance of around 23.8 km from Nainital, popular for its Bhimtal lake. People can come and enjoy the beauty of Bhimtal lake. In Bhimtal, Sattal is very famous place, Sattal is an interconnected group of seven freshwater sattal lakes situated in Bhimtal, a town of Nainital district. The Sattal lake is an attraction among tourists. Nature is flourishing with flora and fauna, and you can enjoy a variety of scenic pleasure in this place.
Mukteshwar:
A village in Nainital District, situated at an elevation of 2285 mts at a distance of 48.2 km from Nainital. This place is very popular among local people. This place has a hub of small pyramidical stones at top of the hill from where you can enjoy the scenery of the Himalayan Mountains covered in snow.
Ranikhet:
A very popular hill station spot among Tourists, at a distance of 57.6 km from Nainital. Ranikhet is a spot famous for its Temples and its Natural beauty. There are places in Nainital like Jhula Devi Temple, Golf Ground, etc which are famous spots.
Almora:
A cantonment town in the state of Uttarakhand at a distance of 64.6 km from Nainital. Almora is famous for Balmithai and it's Chitai Temple. Almora provides you with immense natural beauty and culture.
Best Hotels in Nainital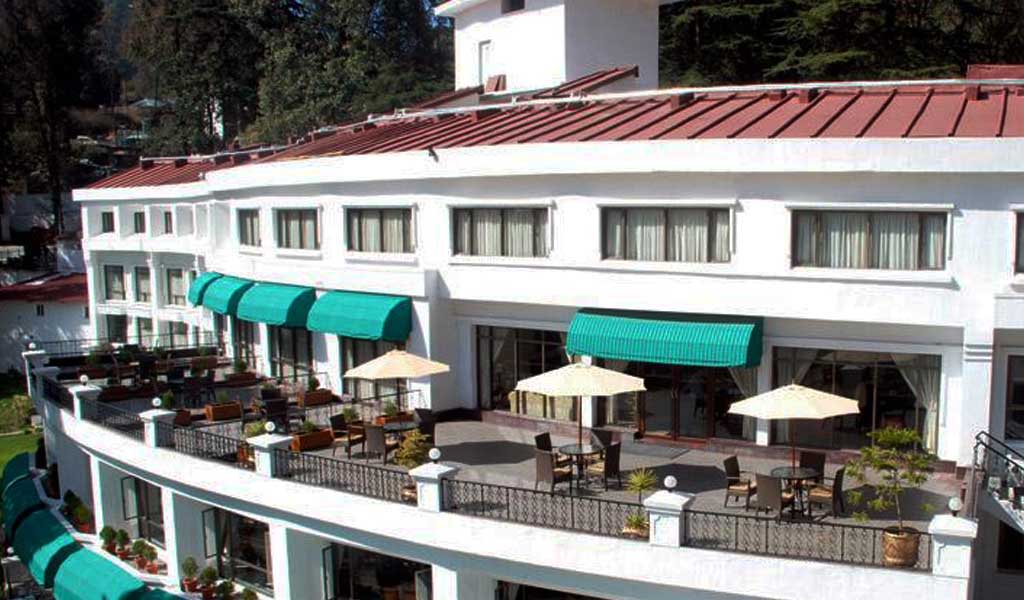 Well when it comes to Hotels, Nainital offers you a variety of hotels from Luxurious to budget friendly list. Hotels are often prioritised by people based on the center of the town and the Nainital Lake View visibility.
So presenting you 10 best hotels in Nainital including five stars to Budget friendly both in the list
The Mannu Maharani
The Naini Retreat
Vikram Vintage Inn
Abbotsford
Solitude by the riverside
Sterling Nainital
Nature Drops
Hotel Chandra Inn Royal Rose
Hotel Lakeside Inn
Nature Valley Eco Huts and Camp
Famous Food Spots in Nainital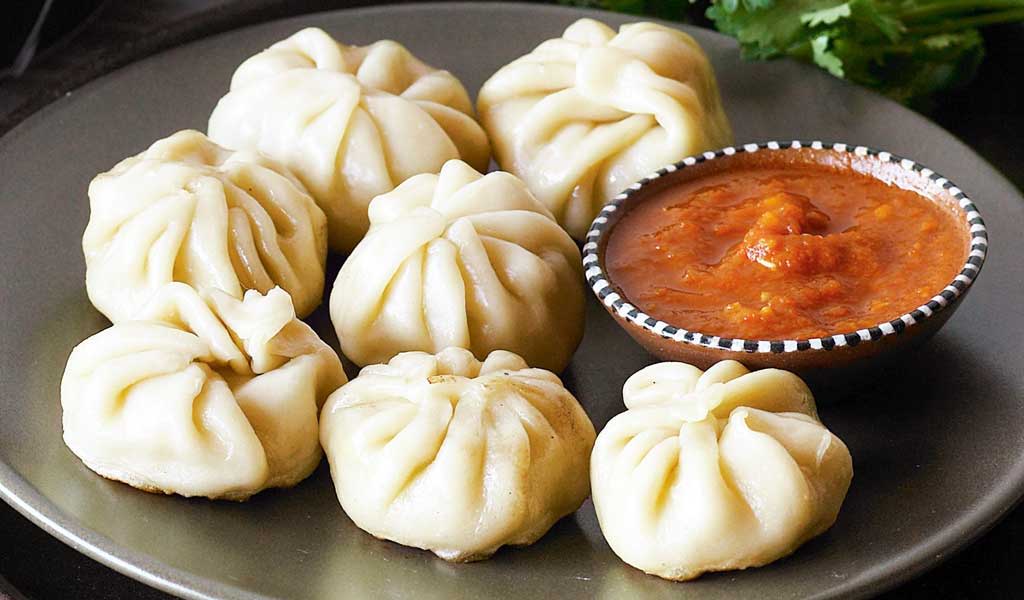 Now starts the paradise for Foodies who are reading this blog. Well when visiting any new place, we want to taste all the local cuisine in its best and famous spots. Nainital is loaded with so much of different cuisines that are absolutely delicious and mouth watering.
In Nainital you will not only find Uttarakhand cuisines but also some very famous Tibetan foods too. So basically Nainital is a mixture of Kumauni and Tibettan Cuisines mixture. The most famous among us all is Momos.
So here we present 10 most famous street food stalls and restaurant in Nainital.
Chandni Chowk Restaurant
Mezbaan Machaan
Manu's Naini sweets
Chinatown Restaurant
Cafe Du mall
Sakley's restaurant and Pastry shop
Sher-e-Punjab
Purohit
Embassy
Moti Mahal
 
How to Reach Nainital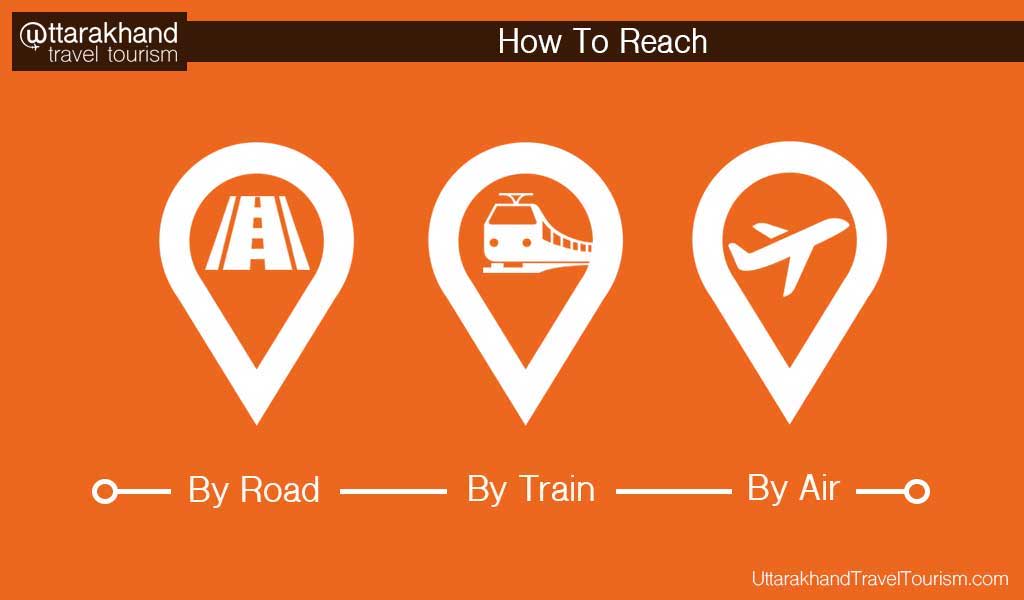 Nainital By Road: Nainital is well-linked with destinations like Haldwani, Nainital, Pithoragarh, and Almora and so on. Government undertaking roadways buses are operating on a regular basis from these places to Nainital. Nainital is just 42.9 kilometers away from Haldwani from where one can easily reach the Town.
Nainital By Train: The closest railway station is Kathgodam. The railway station is at a distance of 34 kilometers from Nainital. Kathgodam railway station is well connected with Delhi, Howrah, and Lucknow. It is very important to make a reservation at least 2 months before for a comfortable journey. Taxis are available at the station to the town as per your budget and luxury modes. A taxi may charge about Rs. 500 to Rs. 1000 for one trip from Kathgodam station to Nainital.
Nainital By Air: People can reach Pantnagar airport as it is the nearest airport to the city. People can also take flights from Indira Gandhi International Airport to Pantnagar airport. Pantnagar is approximately 57 kilometers away from Nainital. Luxury buses, taxis, and Volvo cars are easily accessible till Nainital from Pantnagar airport. This is an international airway so tourists from outside India can also reach Nainital through Pantnagar airport. From Haldwani, you can take a taxi or bus to Nainital.
Tips for Solo Travellers
Though it's safe to travel solo to this Uttarakhand but still you have to keep in mind few things before planning a Solo trip. Take care of below things before planning:
Plan your stay before arriving. At the time of peak seasons , Hotels are fully packed, so you can go through a little bit of unease. So better to plan in advance.
Pack all your warm belongings, Nainital is colder all round the year and nights are even more chilling. Pack all your sweaters and shawls before heading for the Trip.
Places to be visited should be planned in advance if you are travelling solo. As transportation details, distance and modes should be preplanned to prevent any delays.
Follow the rules of the City when Travelling. It is always suggested to read some guidelines to follow before you visit any place. Nainital is a clean and well maintained Tourist spot, so avoid being irresponsible while roaming around maintaining the beauty of Lakes of Nainital.
Avoid travelling by your own vehicle until and unless you are well trained in it. Nainital Route is full of Risky Turns and Sharp edges, So plan your trip safely.
Avoid Travelling alone to very remote places. Try to travel with people around and avoid going to very remote places without any troops/ grouping accompanying you distantly.
Carrying too much cash while Travelling should always be avoided. Nainital is a well updated town and it has all facilities in shopping spots and Hotels for Cash free transactions.
Let yourself dwell in the beauty of Nainital and experience the rustic beauty of this place that will make you surely return again.
Do tell us in comments which places you like most and please mention below if any information you would like to share with us.