Kunja Village: My journey with the people of Kunja Guth
Kunja Gunth is a beautiful less known village in Jageshwar, Uttarakhand located in Bhanoli Tehsil of Almora district, with a total of 48 families residing. The Kuja Gunth village has a population of 180 of which 73 are males while 107 are females as per Population Census 2011.
In Kuja Gunth village the population of children with age 0-6 is 23 which make up 12.78 % of the total population of the village. The Average Sex Ratio of Kuja Gunth village is 1466 which is higher than Uttarakhand state average of 963.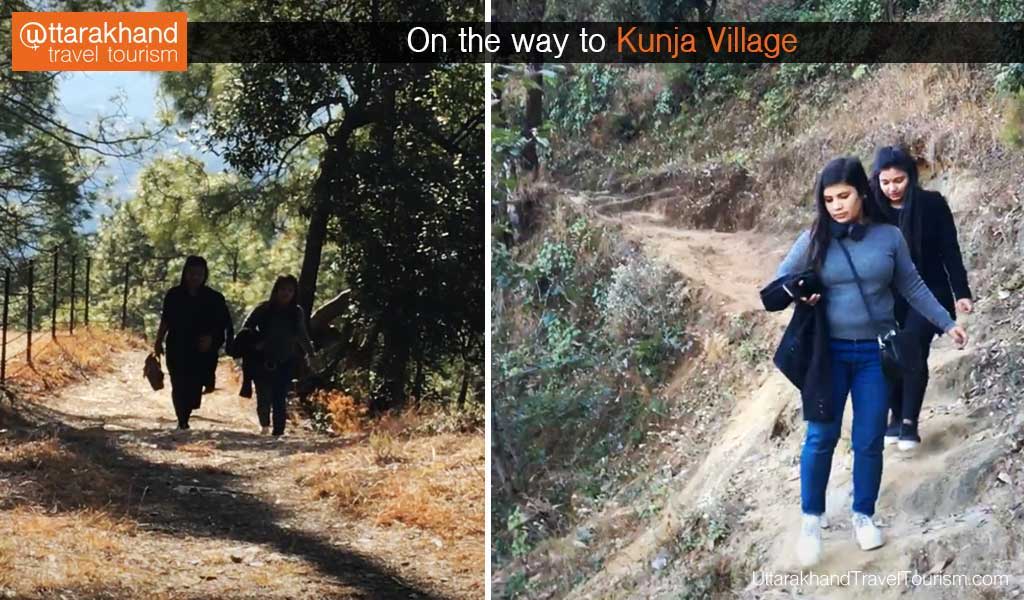 I am not very fond of Hiking/Trekking, and I didn't remember the last time I ever hiked in the mountains of Uttarakhand ever. Planning our trip to Kunja Guth Village we proceeded from Haldwani and took a taxi from Kathgodam to Almora, and then switched the Cab from Almora to Panuwanaula.
From Panuanaula, we hiked around 50-55 min to reach Kunja Guth village. During our climb we were mesmerized by the beauty of this Village. We stayed at the place of my relative.
The path was somewhat plain and somewhat Bumpy, but the beauty of the Village will make it worthy. People of Kunja Guth Village. In Kunja Guth Village, there are around 30-32 families and we met with around 10-13 families who were close to us.
Villages always fascinated me because of the environment we see around. The people are so kind and friendly, they are always ready to help and serve you.It's very rare these days to see such an immense amount of love and involvement with people.
I met with many families, they invited us and served us their local food. People are so innocent here as if they are far away from the actual world we all are living in.
Food in Kunja Guth Village
On our Visit to Kunja Guth Village, we had amazing and delicious local food. Starting from breakfast, we used to have tea as the first thing in the morning. The Food in Village is made on "Chula", Chula is a place where food is made and the fireplace is prepared by woods locally collected.
We used to have some green vegetables, curd with ghee roti for breakfast , and in lunch, we used to have rice and dal again with ghee. For dinner, we had sabji with ghee roti.
What I observed is that Pinaloo ki sabji is a very locally celebrated food of this Village and also of the state of Uttarakhand. So we had this sabji very often on our Trip.
The best thing is that all the food prepared is Organic and pure. They grow all the vegetables served at their own land and the Ghee is also prepared at home.
No doubt the fresh and pure air, pure Organic food, and water makes their average lifespan so much more than us and also their healthy lifestyle will obviously attract you to come and see at least once, the way they live their life.
Things to do in Kunja Village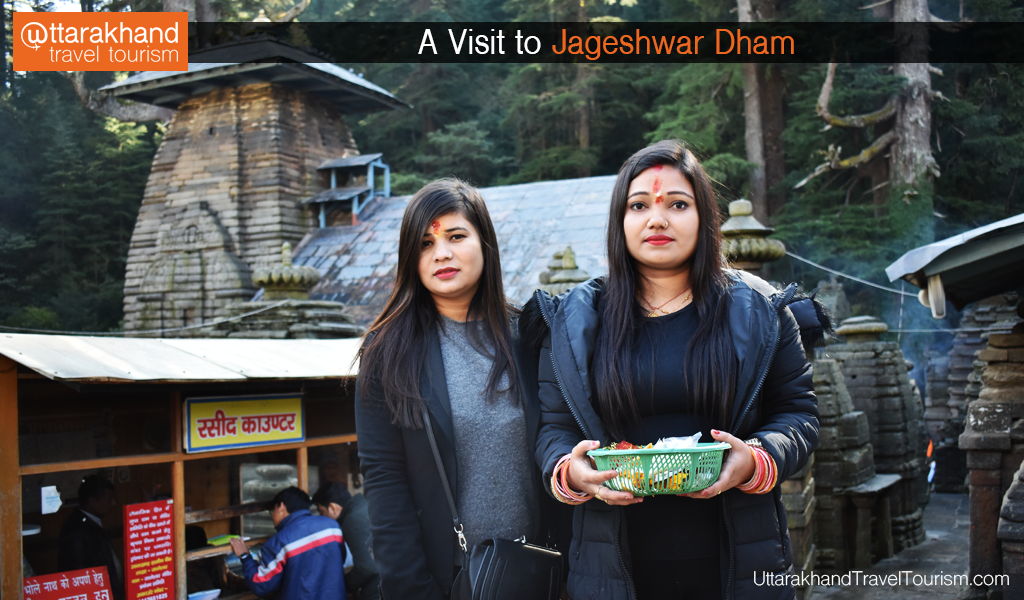 There is so much to do in Kunja Guth Village. Our first plan was to visit the most famous Temple called Jageshwar Dham. So we were headed to Jagehwar Dham. Again we hiked for around 1 hour to the main road, and this time believe me guys the roads were really Bumpy.
After reaching the main road we went to Jageshwar Dham in Cab which was already booked on the previous day for the whole day at the cost of Rs 2000. The amount is less as the Cab was booked by one of our local friends, so we got a good discount.
Usually, they charge Rs 3000-4000. We went to Kunja Guth Village in Winters. Just after we reached Jageshwar Temple, believe me, guys the floor was damn cold and as it is our tradition to enter the Temple barefoot, so our feet were literally numb. It was very hard for me to cope with this cold floor, though mats were arranged in Temple still it was hard to avoid cold feet.
The temple I tell you guys will make you feel the immense energy it contains. The Architecture is amazing with Figures carved in the Temple. The Jageshwar Temple has 125 Temples inside the premises, we didn't visit all of them but still visited most of them.
After completing the Visit we took some pictures and then we stayed for some time to enjoy the peace of Temple. After spending fully satisfied time at the temple, we then headed to see other Temples and places such as Jhandi Top, Old Jageshwar, Shiv Jata Ganga river, etc. After a full tiring yet amazing day we all headed back to our home.
An Emotional Goodbye from the Village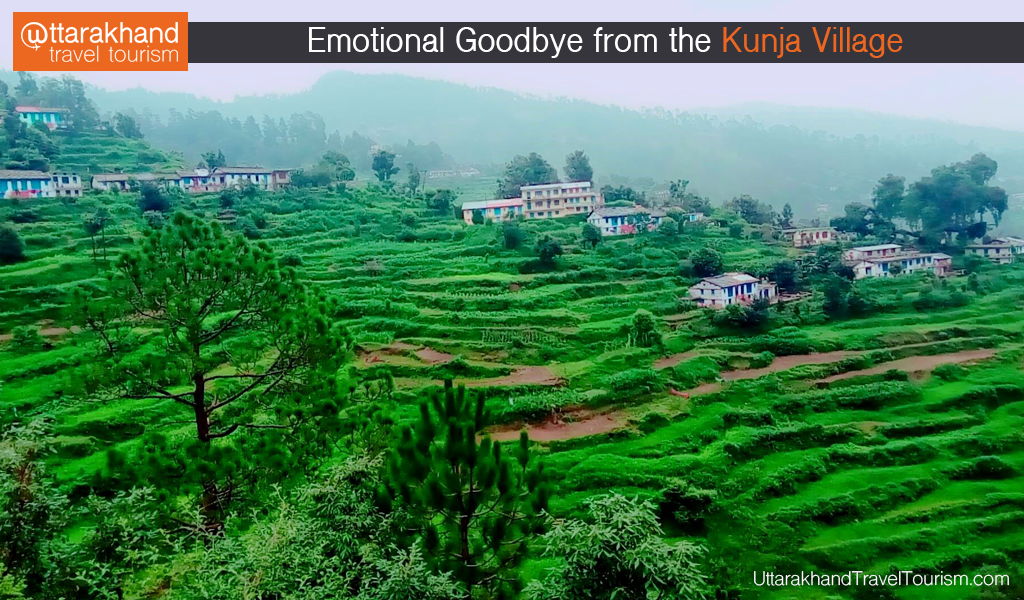 A bit of sadness surrounded me as it was our day to leave the Village. So many memories have been built with so much love from the people of the Village, it was hard to leave so early.
We were there for three days and now headed back to Haldwani. So after having our last pure and organic breakfast we headed to Panuwanaula. Before leaving again we met for an emotional goodbye from all the Families.
Promising to come again we were leaving every home with so much good feelings and memories. Some of our close ones were crying as not many people nowadays come to visit the Village. They must have their own reasons but we will visit soon, promising we left the village and reached Panuwanaula.
Panuwanaula is a market place in Kunja Guth Village. From Panuwanaula we booked a Cab for Haldwani, and waved my final goodbye to the place.
What an Experience it was. There is so much we can learn from the people of this Village. In cities we hardly have time for anyone, time for neighbours would be too much to ask but we don't have time for our own family.
By writing this blog I just want to share my own personal views on my trip and some social issues that the Villagers face. Definitely lack of employment is one of the main causes that let people out of the Villages in search of jobs.
After spending time with local people, my thoughts are that we as a generation should work for them and their development with least harm to our environment.
Walking out of Villages is not an option if you really love to be in your Hometown, How many people are seen doing something meaningful for the place where they belong.
Hope you had a great trip with me to our Kunja Guth Village, and enjoyed it as much as I did.