Kunja Guth: A village in Dhauladevi Almora – Glorious Uttarakhand
Kunja Gunth is a beautiful less known village in Uttarakhand located in Bhanoli Tehsil of Almora district, with a total of 48 families residing. The Kuja Gunth village has a population of 180 of which 73 are males while 107 are females as per Population Census 2011.
In Kuja Gunth village the population of children with age 0-6 is 23 which makes up 12.78 % of the total population of the village. The Average Sex Ratio of Kuja Gunth village is 1466 which is higher than the Uttarakhand state average of 963.
Best Season to visit Kunja Guth
Kunja gunth is a year-round tourist destination and you can filter months as per your own schedule. The season makes it an ideal time to find respite from the heat in other parts of the country where the temperature is almost above 40 degrees Celsius. Every season has its own unique beauty.
Kunja Guth in Summer Season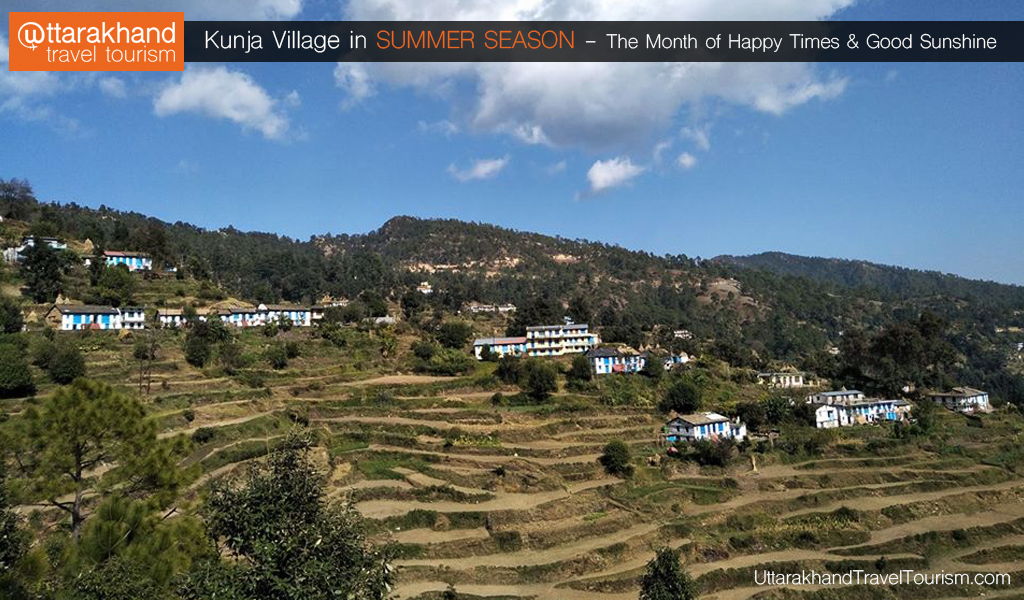 The best time to visit Kunja gunth in summer is considered from March to June for the people who want to escape from the heat of summer.
The average temperature in summers during the day is 20 °C  to 25 °C  keeping the environment cool and nights are more beautiful with an average temperature of 15 °C with seasonal rainfall. So the weather in Summers in Kunja Guth village is very pleasant as the climate remains cool all seasons.
Summer Festivals in Kunja Guth
1. Jageshwar Fair
Jageshwar Fair is arranged in the month of Vaisakha (March to April), So if you visit this place during this month you can experience the Fair dedicated to Lord Shiva. On the occasion of the Jageshwar Fair people take baths on Brahma Kund and pray to Lord Shiva.
2. Phool Dei Festival:
Phool Dei is a festival that welcomes the spring season and is commemorated on the first day of the Hindu month, Chaitra. Phool Dei is all about flowers and springtime. Mostly Young girls participate in this festival. The  Ceremonial pudding made of jaggery is prepared on this day along with it white flour and curd are also offered.
3. Holi Festival:
When in Kunja Guth village around the time of Holi, without a doubt be a part of this festival and their culture. What's unique about the festival is that it knits people together and is celebrated to value well over evil. During this festival, people play with colors and sing their folk music dedicated to the Holi festival. This festival is accompanied by some local sweets made at home called Gujia and homemade fried potato chips.
Kunja Guth in Monsoon Season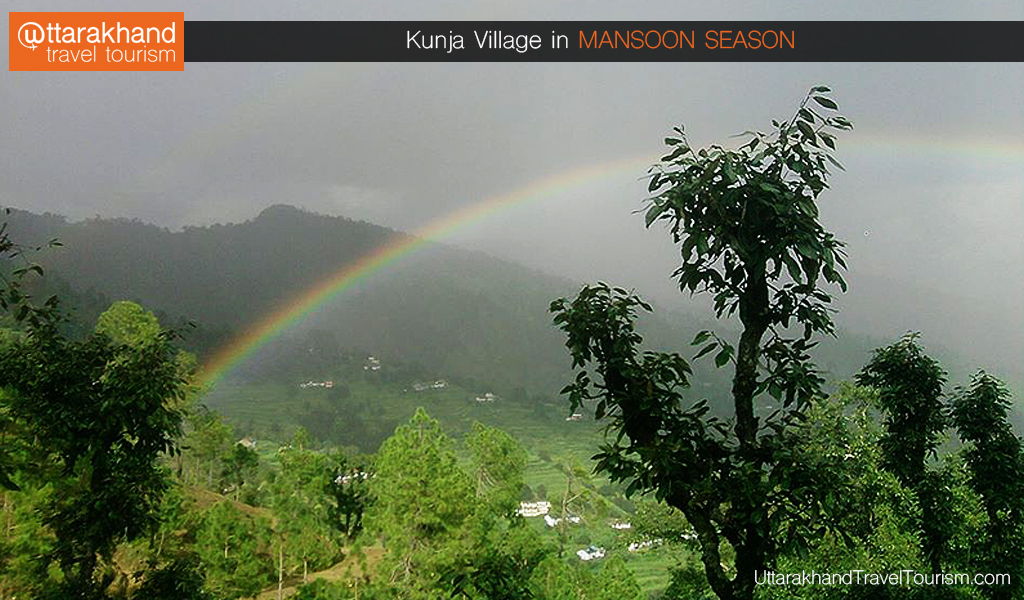 People can enjoy Monsoon in Kunja Guth village from July to September. Experience beautiful green surroundings with mesmerizing scenery of the Village. However, you should be a bit careful when traveling in the month of July and August due to heavy rainfall which may cause a few risky situations and it may become hard to enjoy the beauty of nature.
The temperature during this season varies from 15°C to -3°C, and the breeze that accompanies the rain makes the whole place look even more beautiful.
Monsoon Festivals in Kunja Guth:
During this season if you plan to visit this place, you can have the privilege to attend the 'Jageshwar Monsoon Festival', which is organized between 15 July to 15 August at Jageshwar during the month of Shravan. This festival is celebrated in the honor of the Hindu God "Shiva". Many stalls and shops are arranged on this day by localities, to serve the purpose.
Kunja Guth in Winter Season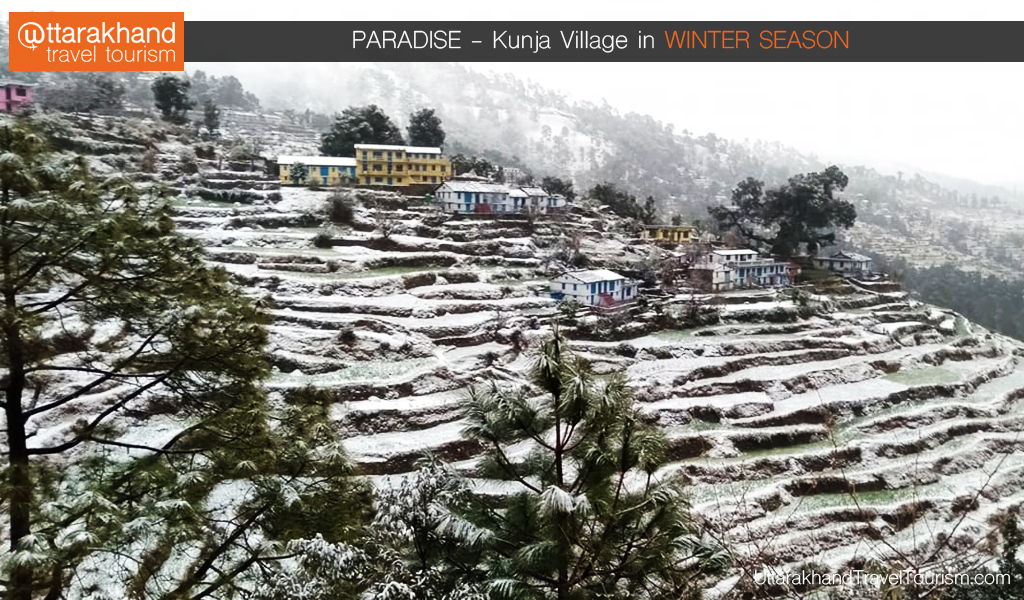 People can enjoy Heavy Snowfall in Kunja Guth Village which begins in October and continues till March. Mesmerizing beauty during winter will amaze you. Not only this but you will get to witness a Panoramic view of the village covered in Snow.
The temperature during this period varies between 15°C to – 3°C with heavy snowfall and lovely scenic beauty for Chionophiles.
Winter Festivals in Kunja Guth
1. Mahashivratri Festival:
Maha Shivratri is a great phenomenon in Hindu culture in all the states of Uttarakhand. This festival is largely celebrated in Feb or March. The festival is dedicated to celebrating Lord shiva on the new moon day in the month of Maagha according to Hindu Calendar. 
Mahashivratri is a grand celebration of the most celebrated Hindu god Shiva. It is believed that the energy flow on the night of Mahashivratri is divine and you can achieve great benefits if you are in a state of meditativeness the whole night.
On the occasion of Mahashivratri, a fair is organized for the devotees of Lord Shiva and people come to visit this temple from all over the world on this auspicious divine day.
Makar Sankranti Festival:
Makar Sankranti Festival is celebrated with kite flying, regional sweets preparation(Ghughuti and khajoors), folk songs and dances, feasts, and children playing with full enthusiasm.
Special treats are made at home with flour mixed with jaggery. The dough is made in different shapes, then dried and deep-fried. The most common shapes made out of dough are Drums, Knives, Swords, and Pomegranates.
These are then tied in garland to be worn by children and celebrate this festival. A local song is sung by children to offer sweets to "Kale kauua kale ghughuti bada khale".
Things to do in Kunja Guth Village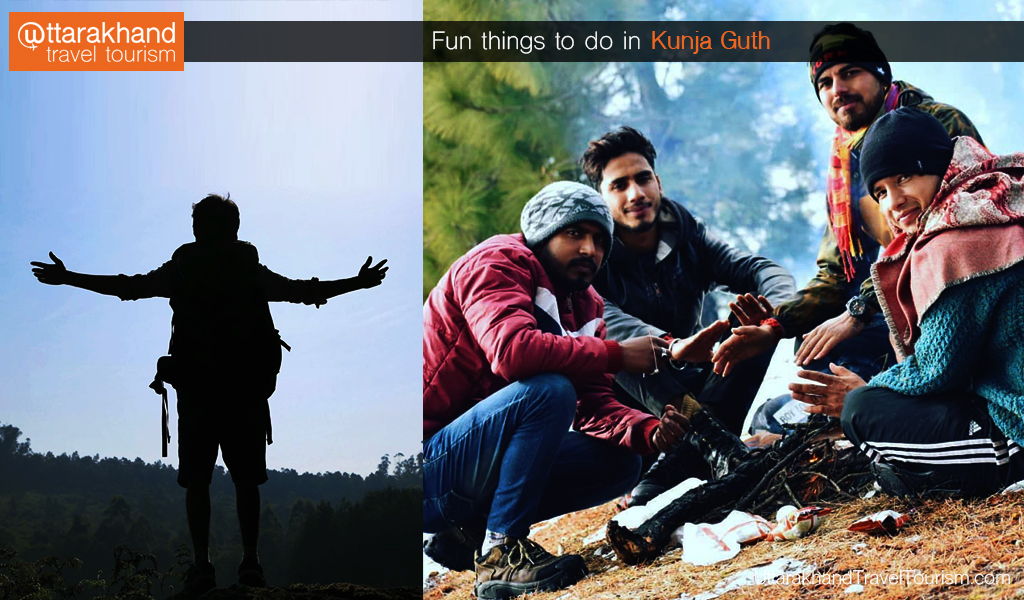 Kunja Guth Village is a beautiful small attraction in Uttarakhand and can be easily explored within a day.
Being a small town, there are fewer things to do for entertainment but if you are seeking peace and spiritual expansion then it is the best place to visit.
Check out the list of things you can seek in this village and take a halt from your busy schedule.
Hiking: Though you can hike the whole kunja Guth village near Kunja Guth village you can also be granted access by an uphill hike of 3 km through beautiful pine forests from Jageshwar Dham Temples. People can also enjoy an epic view of Himalayan peaks that can be seen from Vriddha Jageshwar & Jhandi Top.
Trekking: People can Trek in Kunja Guth enjoying the flora and fauna of the village. Arrange your trip in the most adventurous manner where after tracking you can further move to nearby places like Vridha Jageshwar etc with our local chaperon.
Bird Watching: Kunja Guth is an awesome destination for birding. So many Himalayan birds flow to this Village in the winter season. So few birds like Himalayan Vulture, Steppe Eagle, Bonell's Eagle, Mountain Hawk Eagle, Mountain Scoop Owl, etc can be seen in this season. You can also carry your picnic basket and make the most out of this village's natural beauty and weather.
Cooking lessons from Local Rasoi: If you want to experience the local food heritage, we can arrange proper cooking lessons for you in our original "Gaon ki rasoi". Any local cuisine of your choice will be prepared in Rasoi and even if you wish to only watch, you are free to not cook.
Yoga and Meditation: Kunja Guth village is a remote place and is best for spiritual expansion for any individual. You don't need to attend any special classes and pay for this when nature is all around you. Just find the best spot for yourself and set yourself up for the day.
Camping: What can be more magical than a starry night and breezy weather with your clan. Plan awesome camping either by your own source or you can contact local camping planners in Kunja Guth village.
Sightseeing: Apart from the beautiful Kunja Guth Village, there are many places nearby that you must visit. It will take a maximum of two days to plan proper sightseeing including all nearby places. There are mainly eight main attractions nearby that can be covered like Jageshwar Dham, Dandeshwar Temple, Lakulisha, Mirtola ashram, etc. You can learn a lot about these hidden gems with our local guide.
Places to Visit Nearby Kunja Guth Village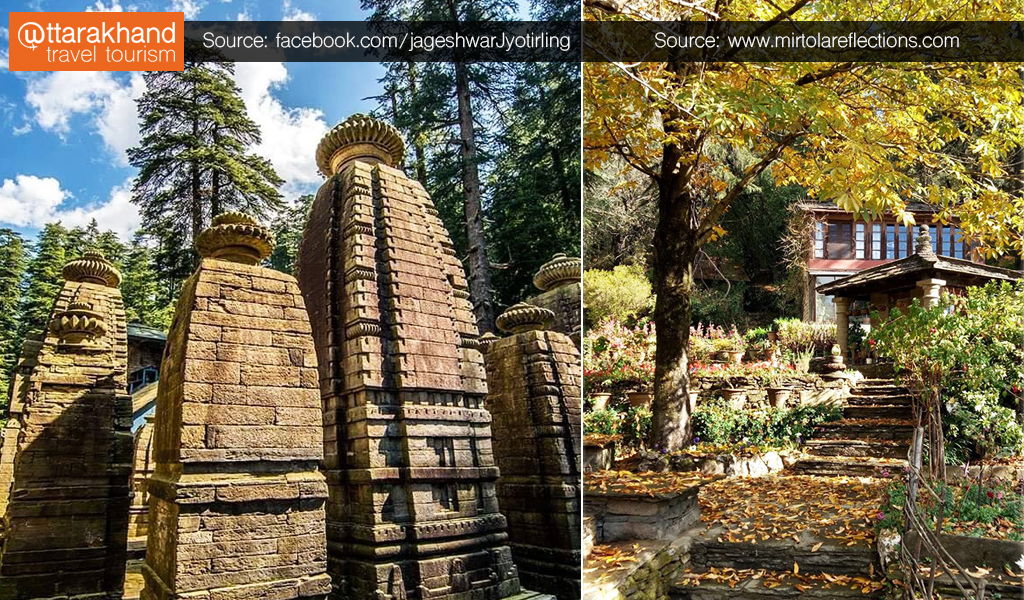 1. Mirtola ashram: It is very near Kunja village, which is 28km away from Almora established by Sri Yashoda Ma, a woman who turned ascetic in 1930, along with her disciple Sri Krishna Prem. Mirtola ashram is also known as "Uttar Vrindavan".
Mirtola ashram is on the way to Pithoragarh from Almora, 3 km to the left after Panuanaula, 25km after Almora. Radha Krishna temple was built in Mirtola ashram by "Sri Yashoda Ma" in 1931, the founder and the head of Mirtola ashram.
2. Jhandi Top: A pass through the meadow which was Jhandi top is around 6km away from the mirtola ashram and is situated at an elevation of 6949 ft. This spot is a Gem in itself and is mainly for mountain and trekking lovers.
After reaching on top you will experience magnificent views and a feeling of oneness with nature. Besides you can camp out there or stay for a picnic to enjoy with your clan.
3. Shiv Jata Ganga: Shiv Jata Ganga is the river that flows through the village of Kunja Guth village. Along the side of the eponymous village at an altitude of 1870 m, is the Jataganga river valley near Deodar forest.
The confluence (Sangam) of two streams called Nandini and Surabhi at the road branching off east from the Artola village on the Almora-Pithoragarh highway. The site is about 3.5 km long along the Jataganga stream and is a small forested valley of deodara, Pines, Oaks, and rhododendrons.
There are villages that provide services to the pilgrims and travelers visiting nearby temples. The resident villages are Kunja Guth, Dandeshwar, Jageshwar, and Koteshwar.
4. Jageshwar Temple: 
Jageshwar is located at an elevation of 1,870 mts above sea level and at a distance of 37 kms from Almora. This is a bit of a cliche: there are a total of 125  temples and hundreds of statues in Jageshwar Dham but usually, it is stated that the number of temples is 124 due to lack of information.
As I have personally visited this place, so I can tell that there is a hoarding outside of time where you can see the exact number of temples. The beauty of the place is elevated by the Deodar trees and the Shiv Jata Ganga which makes its way into the temple.
It is an important tourist destination of Kumaon and receives thousands of visitors every year and believed to be the abode of one of the twelve "Jyotirlingas' ', it is one of the most important religious places for Hindus in the state of Uttarakhand.
It is a local tale that is firmly believed by the villagers that Lord shiva would come here to meditate in complete peace.
5. Vriddha(Old) Jageshwar Temple:
"Vridh Jageshwar" or Old Jageshwar is a Hindu pilgrimage dedicated to Lord Shiva.
It is believed that it is older than Jageshwar Temple hence its name so. As per villagers, King Chand saw a cow which was milking itself in a stone, and so the story continues that on the sight of which it was named Old jageshwar
The temple is about 3 km uphill of Jageshwar, called the old shiva, which is said to be the abode of Lord Shiva before he came down to Jageshwar.
6. Dandeshwar Temple:
Dandeshwar temple is situated slightly upstream from the jageshwar temple complex. This place is 200 mts from Artola village. The dandeshwar temple complex is in a broken-down situation with many of the relics turned into ruins.
How to Reach Kunja Guth Village, Jageshwar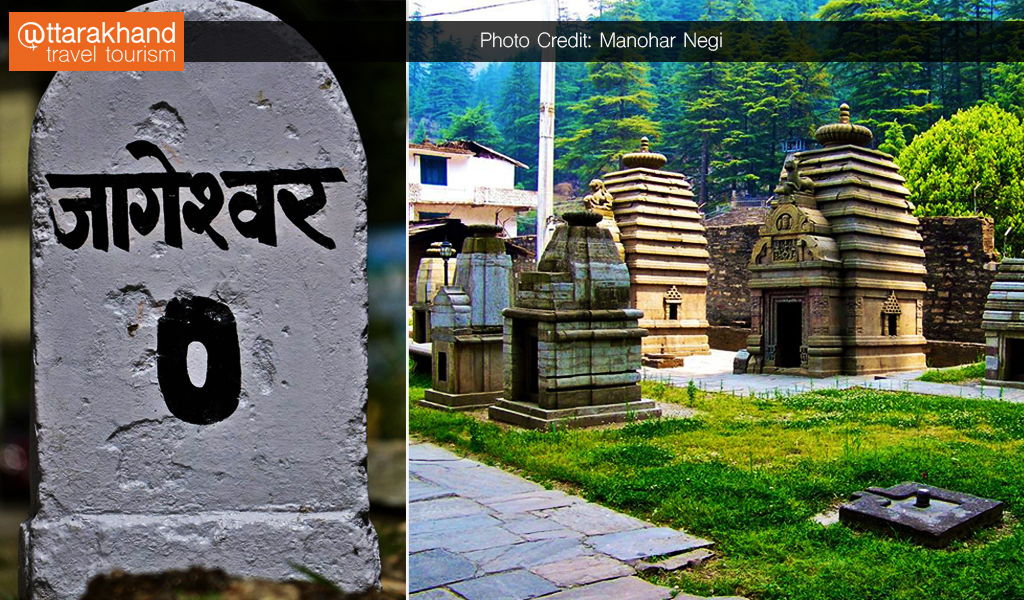 Kunja Gunth village is remotely situated. So people can use the below mediums to travel as per their planned budget:
Reach Jageshwar By Air: 
People can reach Pantnagar airport as it is the nearest airport to the city. People can also take flights from Indira Gandhi International Airport to Pantnagar airport. Pantnagar is approximately 150 kilometers away from Kunja Gunth.
Luxury buses, taxis, and Volvo cars are easily accessible to Jageshwar from Pantnagar airport. This is an international airway so tourists from outside India can also reach Jageshwar through Pantnagar airport.
Reach Jageshwar By Train: The closest railway station is Kathgodam. The railway station is at a distance of 125 kilometers from Kunja Gunth. Kathgodam railway station is well connected with Delhi, Howrah, and Lucknow.
One can buy tickets which cost around Rs. 150 up to Kathgodam. So, it is very important to make a reservation at least 2 months before for a comfortable journey.
Taxis are available at the station to the town as per your budget and luxury modes. A taxi may charge about Rs. 4000 for one trip from Kathgodam station to Jageshwar.
Reach Jageshwar By Road: 
Jageshwar is well-linked with destinations like Haldwani, Pithoragarh, Almora, and so on. Government undertaking roadways buses are operating on a regular basis from these places to Jageshwar.
Jageshwar is just 37 kilometers away from Almora where one can easily reach the village. The distance between Delhi and Jageshwar is around 400 kilometers. Buses also run from ISBT Gate Delhi to Haldwani and Almora as well.
Tips for Solo Travel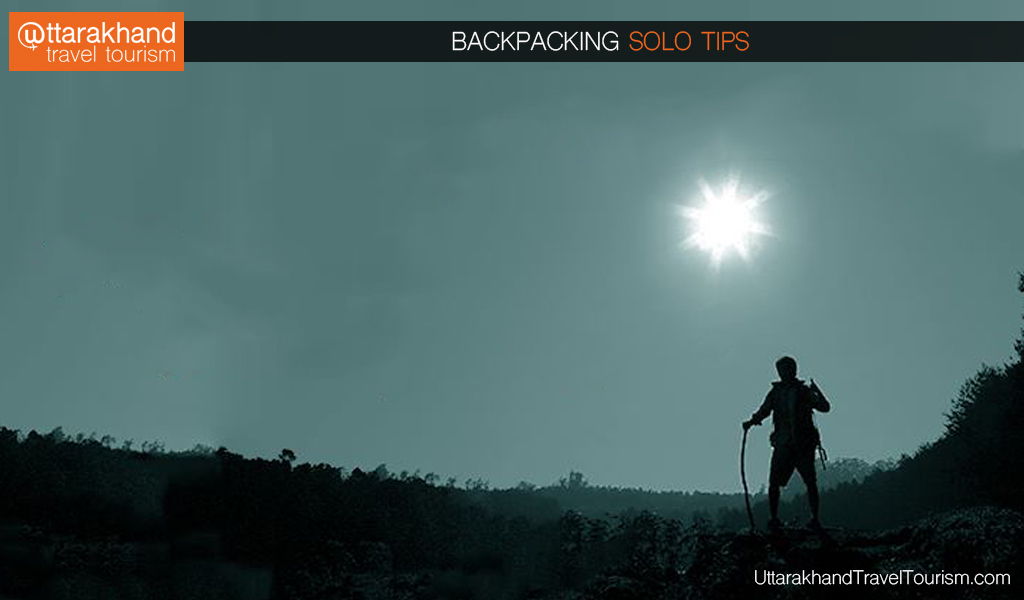 Though it's safe to travel solo to this Uttarakhand still you have to keep in mind a few things before planning a Solo trip. Take care of the below things before planning:
Plan your stay before arriving. At the time of peak seasons, Hotels are fully packed, so you can go through a little bit of unease. So better to plan in advance.
Places to be visited should be planned in advance if you are traveling solo. As transportation details, distance and modes should be preplanned to prevent any delays.
Avoid Travelling alone to very remote places. Try to travel with people around and avoid going to very remote places without any troops/ grouping accompanying you distantly.
Finally, what matters is how you people get influenced by our posts to come back at least once in a lifetime and travel to this beautiful place.
Do let us know in the comments below what you think about our blog post and share your own ideas which I may have not mentioned. Did you find this blog post helpful? If so, then please share it with your friend!