Top 10 Famous Food of Uttarakhand : Recipes by Ingredients
The phrase "the way to a man's heart is through his stomach" simply exemplifies the delicacies prepared in Uttarakhand. The one thing that is unique about the cuisine of these villages is that it is cooked over burning wood or charcoal, which bestows them with additional nutrition qualities. This is one characteristic that clearly makes the food more delicious and unique. Though it's not possible to cover all the cuisines at this time, let's present the top 10 famous foods of Uttarakhand.
Famous Cuisine of Uttarakhand
1. Bhang ki Chutney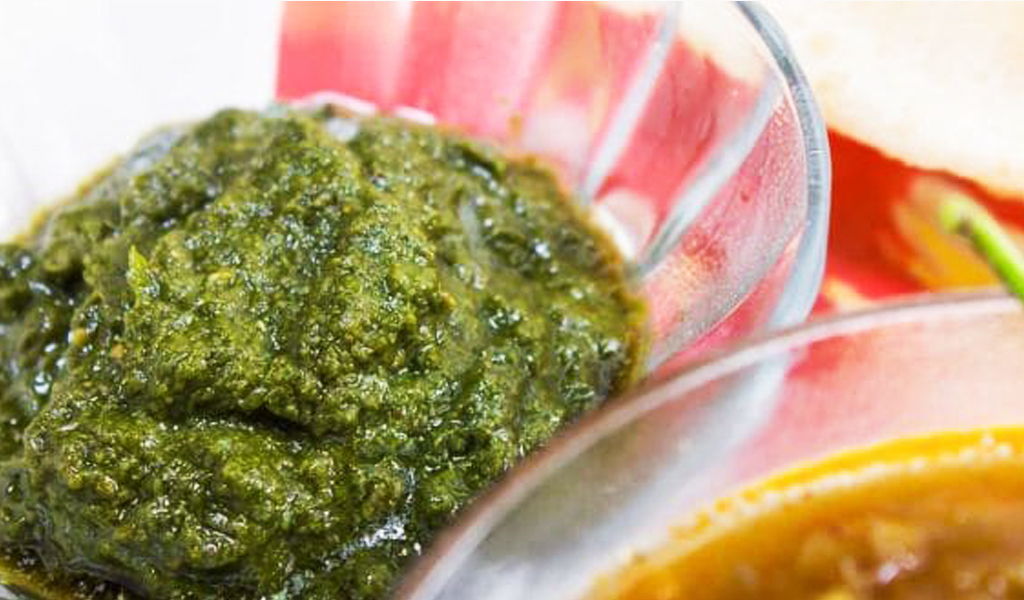 Bhang is basically an edible form of Cannabis, originating in Indian Subcontinent Served with many delicacies, It is basically prepared of Hemp Seeds which provides it the characteristic aroma. Bhang is also used in preparing a special mixture of salts called "Bhang ka namak" often used in Uttarakhand delicacies. It's fresh aroma and tangy taste will linger in your mouth long after you have consumed it. 
Ingredients of Bhang ki Chutney
1/4 C bhang seeds (hemp seeds)
1-2 fresh green or red chillies,or you can use both
coriander and mint leaves, chopped (1/2 C or to taste)
Lime juice
Salt according to taste
Recipe of Bhang ki Chutney
Take a Pan and roast bhang seeds. Put all your ingredients on the sil-batta or you can also use a mixer and grinder, including the seeds that might have popped all around. Grind into a chutney using water as required.
2. Bhat Ke Dubke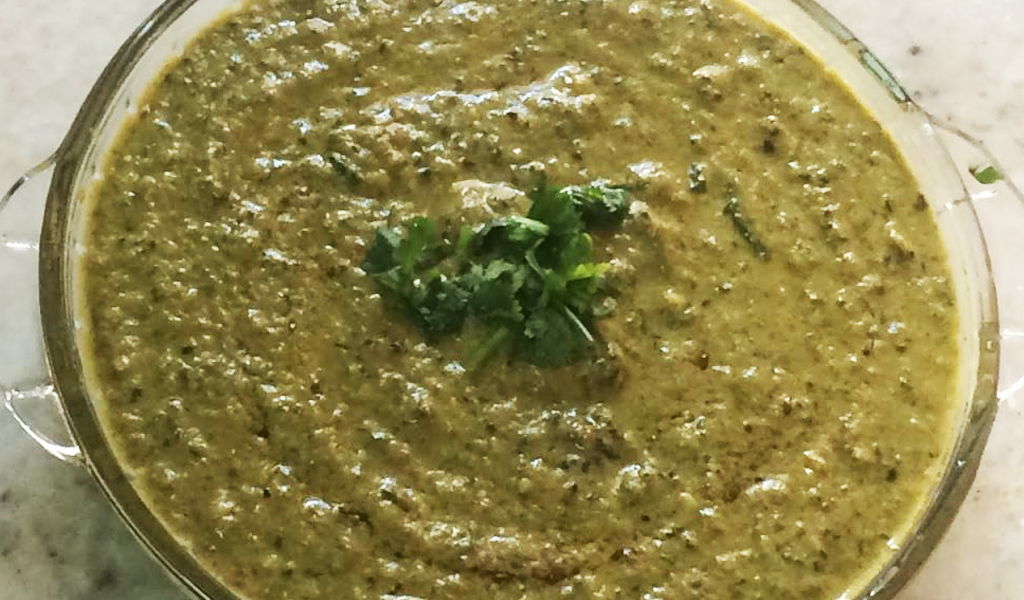 This is one of the best dishes of Uttarakhand on which local people swear by.
It is prepared with different types of Dal and is best served with rice. You might think what's so special about a normal delicacy prepared by Dal. Well, Dubke is grinded and then prepared which tastes like heaven of food. Here we will take "Bhatt ki dal" as a main ingredient for preparation. It's one of the famous food of Uttarakhand.
Ingredients of Bhat ke Dubke
Bhatt Dal 1 cup
jamboo grass and Gandhreni (Both are local herbs)
Onion 1 medium size
Ginger a small piece
Garlic 5 clove
Coriander powder 1 tea spoons
Asafoetida (Hing) 2 pinch
Green chili – 1
Oil / ghee 2 Tablespoons
Red chilli powder ½ tea spoons
Cumin seed (Jeera) ½ tea spoon
Salt according to taste
Turmeric tea spoon
Recipe of Bhat Ke Dubke
Heat oil in a pan. Add cumin seed and hing and fry until cumin seeds turn little brown.Add minced garlic and fry until change color. Add finely chop onion and garlic and saute well. Now add all the spices including salt and saute for one more minute. Now add bhatt dal coarse paste and sauté well and cook for one minute. Now add 4 cups of water. Let it cook on a simmering gas flame for 15 minute.You will start noticing a brownish green colour. Now your gravy is ready to taste.
3. Aloo Gutuk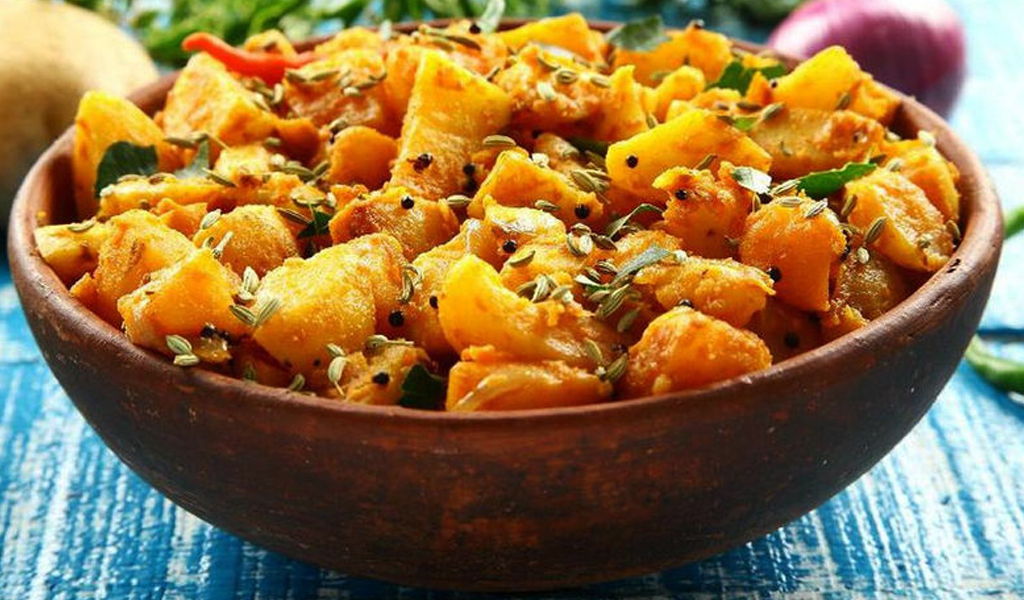 This is also one of the most profoundly served delicacies & famous food of Uttarakhand. Served alone in Holi festival with tea or can be Coupled with Bhang ki chutney, Pooris and Kumaoni Raita, this dish will give your soul what it needs.
Ingredients of Aloo Gutke
10-12 Baby Potatoes
2 teaspoon Mustard oil
1/4 teaspoon Red chilli powder
2 pinch Asafoetida
Salt according to taste
1/8 teaspoon Coriander Powder
1/4 teaspoon Cumin seeds
1/4 teaspoon Turmeric powder
Fresh Coriander for garnishing
Recipe of Aloo Gutke
Mix coriander powder, red chilli powder and turmeric powder with 2 teaspoons water.Heat a pan with oil, add cumin seed, asafoetida and red chilli and let it cook for about 15-20 seconds.Add some mixed spices and salt as per your taste.Add the potatoes and coat well with the spice mix. Let it cook for about 7-8 minutes.Take a small bowl and mix coriander powder, red chilli powder and turmeric powder with 4 teaspoons water.
4. Jholi (Curd curry)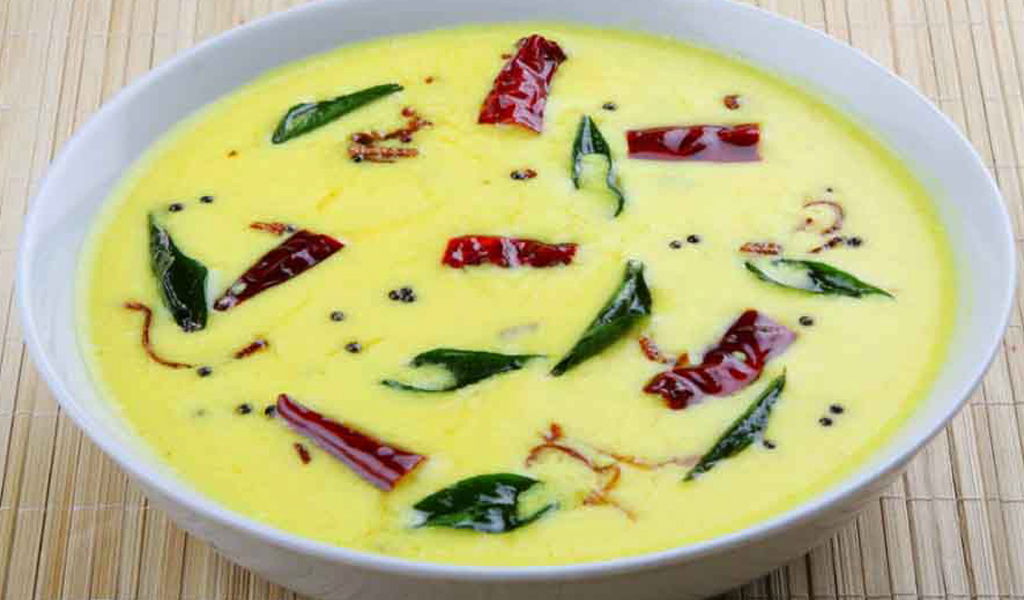 Not a very celebrated but very commonly everyday meal of every house in Uttarakhand.Jholi is made up of Curd and is served with rice , which maked this combo very delicious commonly known as jholi bhat in kumaon or you can say curry chawal.
Ingredients of Jholi
1/2 cup gram flour
2 cup yogurt
2-3 cloves garlic
1/2 tsp hing
1/4 tsp turmeric powder
1/2 tsp red chilli powder
1 cup water
10-12 curry leaves
Salt according to taste
3 tsp ghee
Recipe of Jholi
Prepare a bowl of gram flour, turmeric powder little, sprinkle salt, little water, red chilli powder and stir well. Add curd and water in the batter whisk it.Heat a pan add ghee now add garlic, cumin seeds, mustard seeds, hing and curry leaves, then add curd. Stir it continuously to cook till it by adding water and only eat after the gravy is little thick.Combine it with rice or roti.
5. Bhatt ki Churdkani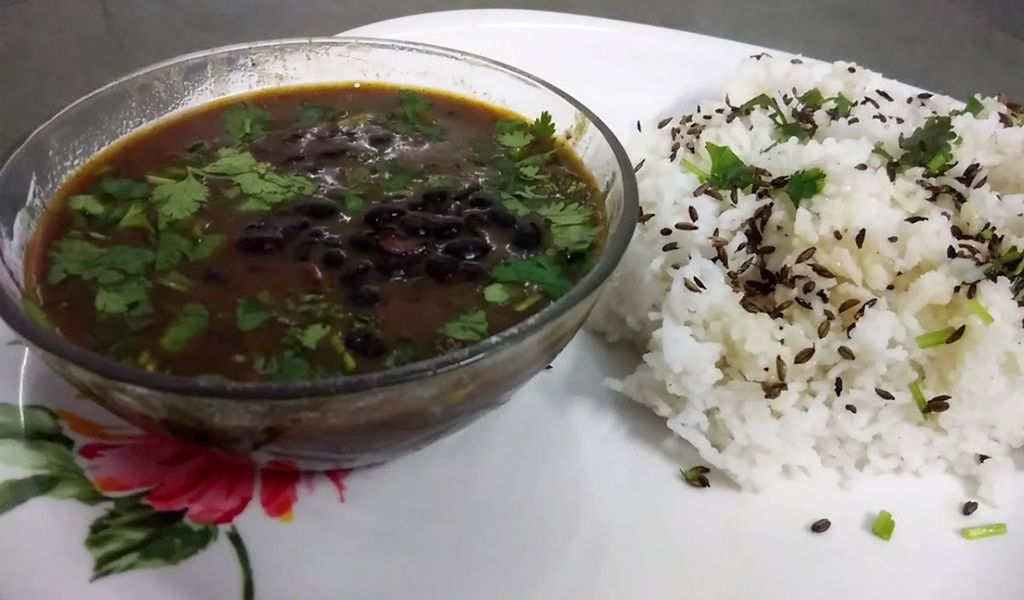 My own very favourite dish is Bhatt ki Churdkani. And to feel its taste you must try it once whenever you visit Uttarakhand villages. Made up of Bhatt ki dal( Local pulses), its taste combined with rice will ensure that you enjoy even the last bite of it.
Ingredients of Bhatt ki Churdkani
1 cup Black beans, soaked overnight
1 Onion, finely chopped
1/4 cup Whole Wheat Flour
2 teaspoon Garam masala powder
Salt according to taste
Sunflower Oil
1 teaspoon Turmeric powder (Haldi)
2 teaspoon Red Chilli powder
4 cloves Garlic, finely chopped
1 teaspoon Cumin seeds (Jeera)
2 teaspoon Coriander Powder (Dhania)
1 tablespoon Ghee
Recipe of Bhatt ki Churdkani
Soak the black beans overnight. Heat a kadai on medium heat, add a tablespoon of ghee, add in the wheat flour. Once it is light brown, take it out and keep it aside. Into the pressure cooker, heat oil over medium heat; add in cumin seeds and allow it to crackle. Add in the chopped onion and garlic and saute till the onions turn translucent. Once the onions have turned light brown. Add soaked black beans along with the water, the spice powders like turmeric, red chilli powder, garam masala powder, coriander powder, salt to taste and mix well. Add more water until the beans are immersed well in water. Pressure cook the Bhatt ki Dal for 6 to 7 whistles for about 35 minutes.Once done, allow the pressure to release naturally.
6. Gehet ki Dal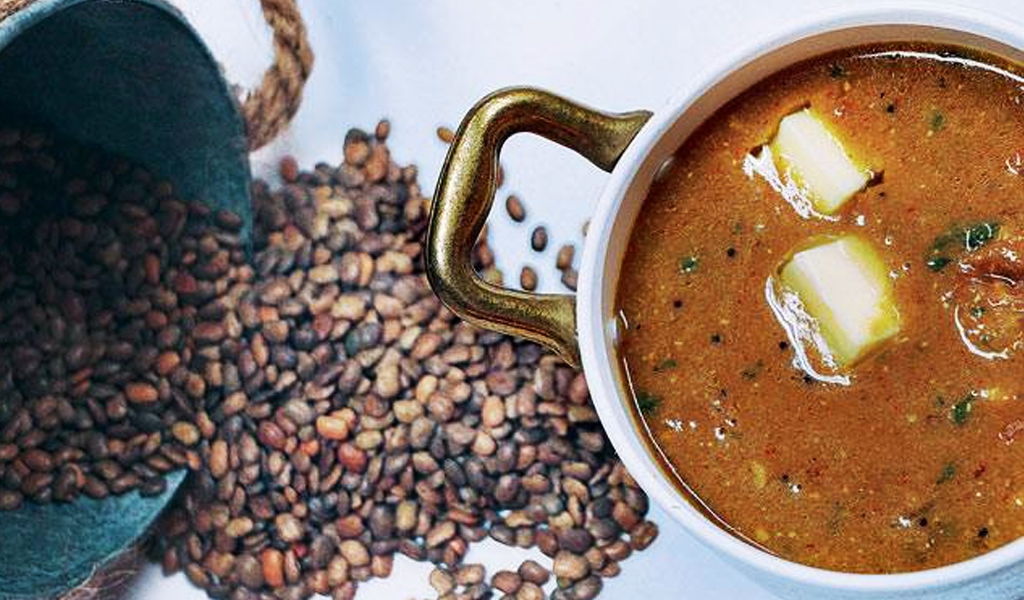 Gehet ki Dal is one of the most common and healthy dal in the state of Uttarakhand.
This is a beautiful and tasty cuisine, and the last sprinkle of coriander leaves makes it smell so good. This particular serve is assumed to be a bit warm in its texture , so most commonly it is consumed in Winters and has special health benefits.
Ingredients of Gehet ki Dal
Gahat ki dal
Turmeric
Chilly
Coriander
Rice Paste
Ginger
Garlic
Cumin seeds
Ghee
Onion
Recipe of Gehet ki Dal
Take some Ghee and heat it adding Onion, Turmeric, chilly, ginger and garlic paste. Add rice paste and then add dal, cook it for sometime.
7. Madua ki Roti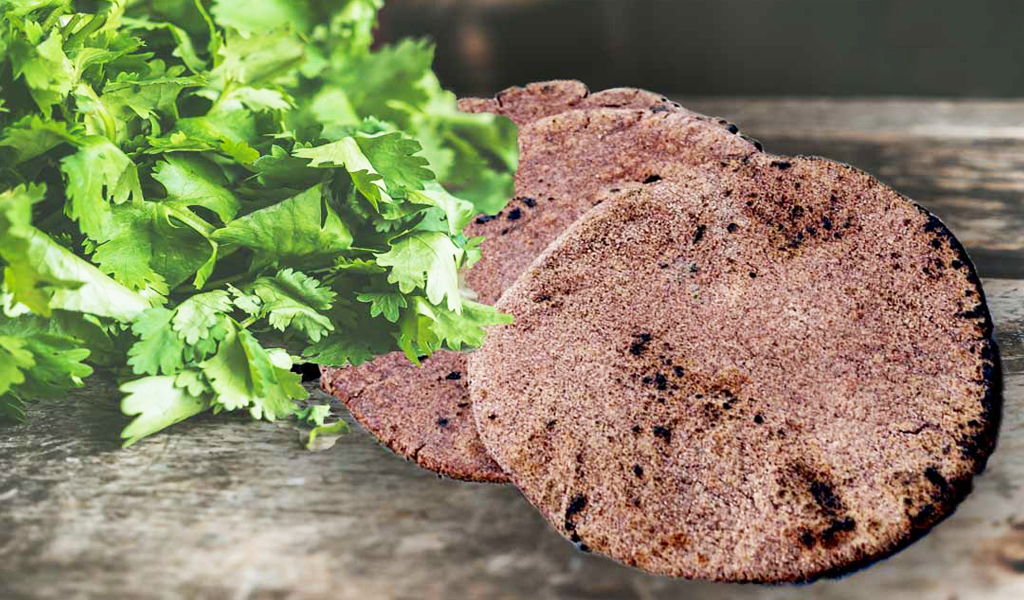 Madua ki roti is a staple food in many parts of north india especially from kumaoni cuisine. Madua ki roti is a simple and nutritious chapati made of wheat flour and madua flour. This chapati can be served with local green vegetables.
Ingredients of Madua ki Roti
1 cup ragi flour
1 crushed to paste green chilli
1/2 cup carrot
1/2 cup spring onions
3 cup yoghurt (curd)
salt as required
Recipe of Madua ki Roti
Finely chop the spring onions.Takes carrots and bowl.Add the ragi flour with chopped spring onion, green chilli paste and grated carrots. Sprinkle salt and mix all the ingredients using your fingers. Pour yoghurt in the flour and knead a soft, pliable dough. Once done, cover it with a kitchen towel and and keep it aside for some time.Heat a non-stick pan over medium flame. Gently place it on the hot pan. Flip the roti accordingly. Cook till the chapati become brown.
8. Palak ka Kaapa (Spinach Gravy)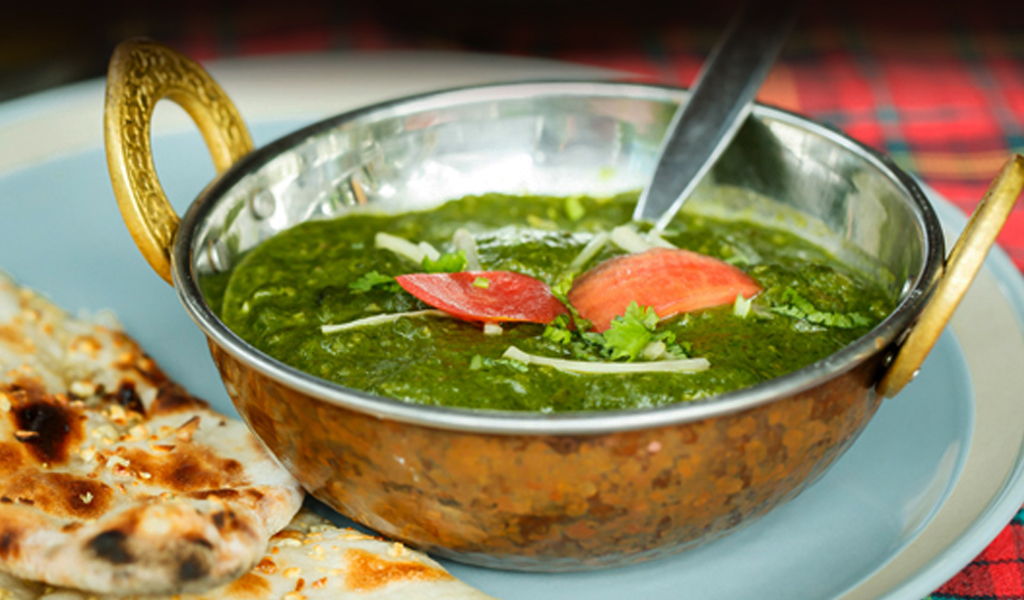 My personal favorite and very famous food of Uttarakhand after Bhatt ki chudkani, this kaapa you all must try.
Loaded with nutritional values this Kaapa is easy to make yet very tasty. This is one of simple recipes from the indian state of Uttarakhand and goes well with Roti and Rice.
Ingredients of Palak ka Kaapa
1Bunch Palak (250 gm.)
2-3 Whole Red chilies
Pinch Asafoetida
1/4Teaspoon Cumin seeds
Salt according to taste
Rice flour
1/2Teaspoon Turmeric powder
1/2Tea Teaspoon Red chili powder
5 ml. mustard oil or any cooking oil
Water
Recipe of Palak ka Kaapa
Clean and wash the Spinach. Drain and Roughly chop it. Heat ghee in a wok or a deep pan. Add cumin seeds once the ghee is hot. Let it crackle and add the red chilli powder, turmeric and quickly give it a stir. Now add the chopped Spinach and salt. Go easy on salt as greens take less salt and let it cook on medium for 6-7 minutes stirring in between. The Spinach should reduce to almost half and then add in the curd and rice paste. Mix everything and let it further cook for 2-3 minutes. Serve with Roti or Rice.
9. Kumaoni Raita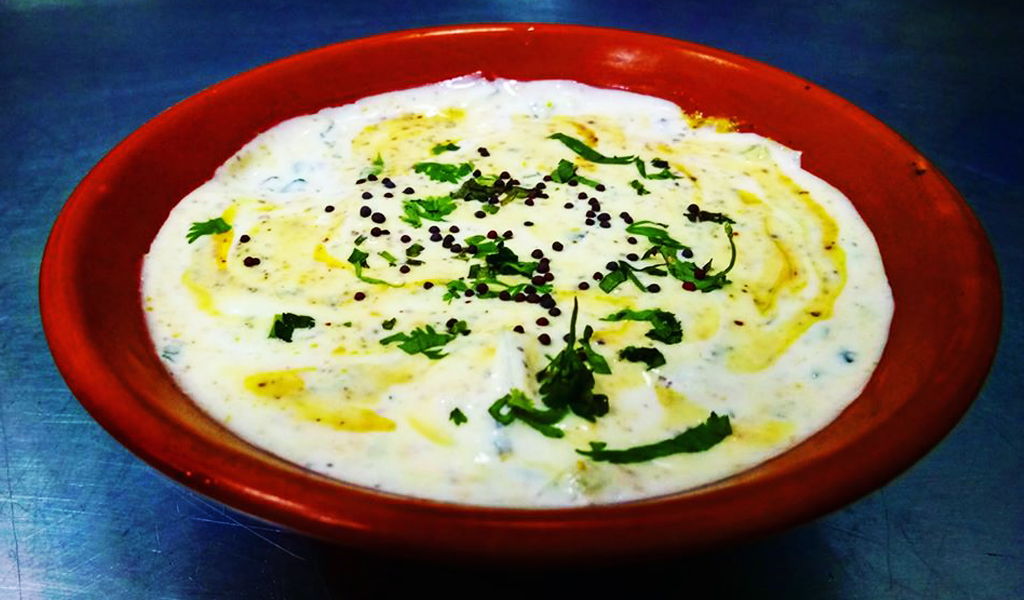 Kumaoni Raita is an easy delicacy that goes well with your daily meals.
Raita is prepared from boondi, salad and fruits but here in Uttarakhand raita is made up using cucumber, yogurt, mustard seeds, fenugreek seeds etc.
This raita is strong in taste and is served chilled which is also known as "kheere ka raita". This famous food of Uttarakhand is mostly prepared in every festival.
Ingredients of Kumaoni Raita
Cucumber- 1 medium size
Cumin seeds- ½ tsp
Turmeric powder- ¼ tsp
Green chillies- 1
Mustard seeds powder (rai) – 1 tsp
Curd- 250 gm
Rock Salt to taste
Cloves of garlic (crushed)- 2 nos. (optional)
Black pepper and coriander leaves for garnishing
Recipe of Kumaoni Raita
Grate the cucumber and Squeeze the grated cucumber. Mix the grated cucumber with curd and then add salt, turmeric powder and sliced pieces of chillies. Mix crushed garlic cloves and other ingredients well. Roast cumin seeds over medium flame and grind it. Sprinkle black pepper and garnish coriander leaves.
10. Pahari Gaderi ki Sabji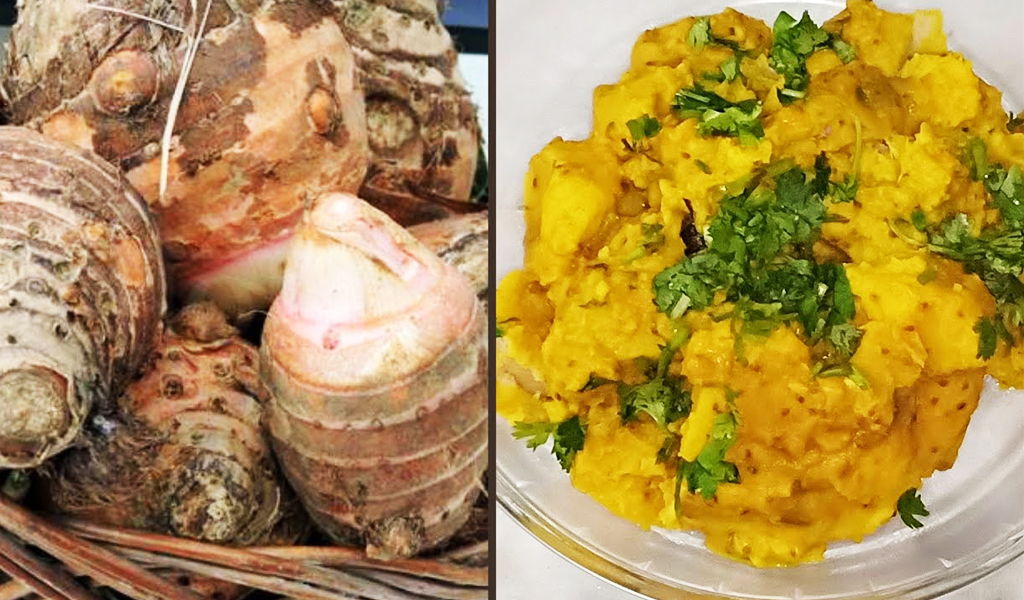 Pahari Gaderi looks like arbi but it is different. It is one of the famous food of Uttarakhand. Arranged from the slopes with the essence of saute Jamboo and garlic, it is utilised as a vegetable supper or sometimes snacks with tea. It often resembles the taste and look of "Aloo ke Gutke" which is also local delicacy of Uttarakhand.
Ingredients of Pahari Gaderi ki Sabji
Gaderi-250 gm
Crisp 1-2 squeeze
Turmeric Powder-1/2 tea spoons
Dark Pepper Powder – 2 squeeze
Water-q.s.
Salt according to taste
Ajwain-1 squeeze
Jamboo-1 tea spoons
Bhang Seed – 2-3 tableSpoons
Mustard Oil-1 tablespoons
Garlic – 5-6 cloves
Ghee-1 tableSpoons
Recipe of Gaderi ki Sabji
Wash Gaderi appropriately. Peel and cut it in medium size pieces. Put mustard oil in the dish and include crisp, ajwain, turmeric powder, dark pepper powder and sear it. Include water and cut bits of gaderi. Bubble it in a weight cooker to make it semi strong. Include Bhanga Seed Juice/drain into semi-bubbled gaderi. Again cook it with 4-5 bubbles.At long last sauté it with 'tadka' of jamboo and garlic in ghee.
I hope this blog has made you crave for the Cuisine of Uttarakhand. So next time whenever you visit, must try one from the above list.
Do share any information that I may have missed in below comments, which we can include in our further segment.
You May Also Like