Road Trip To Jageshwar Uttarakhand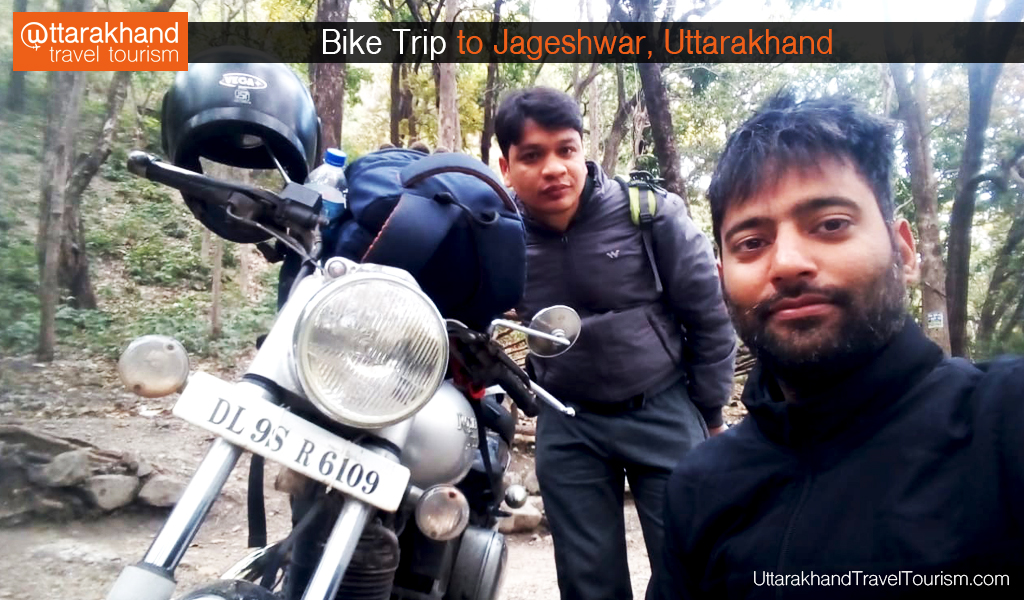 Road Trip to Jageshwar Village Uttarakhand
By Chandra Mohan Singh Negi
Often I used to go to the village by bus but it was my wish to plan a Bike trip. It was like some of my finest wishes that I had to complete before I got too old for it. My friend Mr. Pankaj and I were planning to visit the hill station by bike. He is basically from Haryana. We both were working in the same company but in different departments. Often in the discussion, I told him about our culture, traditions, hard-working and innocently loving people of Uttarakhand. It was his wish that he wanted to visit Jageshwar Dham and want to know the culture of Uttarakhand. Natural beauty of Uttarakhand like hills, rivers, temples, that's why it is called the "land of god" as it consists of fresh air, culture, birds, village life.
Most travellers including youths want to stay in the village to feel its beauty instead of staying at a hotel. Travellers want to know about the lifestyle of villagers but are not familiar with the place so it's hard to choose where to stay. You know that it is very difficult to take leave from a private job these days but somehow we managed. We had already planned to visit Kunja Guth. I am a married man living in Delhi with my family. I got approval from my father to visit my native place Kunja Guth. I was familiar with this local place. He advised me to drive slowly and carefully because this was my first bike trip in the hilly area and I guess that's the way Father's are.
It was 7 o'clock in the morning when we started our bike journey from Delhi. That day was damn cloudy and it was about to rain.
Now we crossed Anand Vihar in the morning and we both were very excited about this trip. We were on a bullet bike with trekking bag and some of our essentials. Now we both were continuously driving taking turns. Around 1 PM, we had some lunch and took some rest. We follow the Google map via Moradabad-Rampur-Kashipur-Haldwani-Nainital-Almora-Jageshwar.
Now we reached Haldwani and it was an amazing experience. After crossing Nainital the real journey began, the climate totally changed and the speed limit of the bike also decreased as we were heading to hills. We were enjoying the breeze, nature and scenery that came along our way. It started raining and now it was very difficult to drive but we had to reach our destination on time. The rain was not so heavy, it was just showering. We planned to take some refreshments like snacks, tea and were waiting for the rain to stop. Now I asked the tea shop owner about the climate condition of the area and he replied to me this in non-stoppable Rain and it will drizzle continuously but we both were feeling nice and adventurous. Some group of people stayed by the shop and were singing and enjoying themselves. It was a nice feeling to listen to the song and see people enjoying. We chatted a bit and got to know each other well.
We both have a sporting spirit, so we decided to leave and start our journey without a lot of thinking. We don't have raincoats so our clothes were totally wet but we didn't care at that time. Now we continued driving our bike in slow rain. We were very happy to reach Almora, which is our district but at that time we were very late. Now we have to cover approx. 39 km to reach our destination and we both were very tired. The night started and it was very difficult to reach our destination. My phone was also not working as networks are hardly efficient in Hilly areas.
I informed my sister staying in the village that we would reach by 8 PM. She was also trying to call me but due to network issues, she was not able to talk with me. Then we move on from Almora to our Kunja village. Now the speed of rain was increasing. we both were totally wet and finally reached Panuwanaula, where all shops were already closed. The rain was very heavy and for a surprise, it started to snow too. The temperature was very low. It was a very difficult task to ride a bike. Now we decided to stop the bike. We were in a forest area where the temperature was very low. We were almost freezing now. I cannot express in words how cold we were. We both were not able to ride, so we decided to stay for a while in the Hut which we found in our way.
We were planning to bonfire but it was very difficult to burn wet woods in the forest. We were feeling so cold now and the temperature was very low. We thought we could burn some not so useful clothes we were carrying but they were also wet, so that attempt also failed. I called my brother staying at Vridh Jageshwar beside the road, having his own vehicle and guest house. I told him about the problem we were facing at that time, he comforted us and was ready to help. He picked us up from the forest where we were waiting, which was approx. 6-7 kilometer from his destination. I want to tell you that we both were very lucky to have a little bit of battery otherwise we would have no other option that night.
I called my sister and asked her that we are not able to come to the village due to snowfall and now we were planning to stay with my brother at Vridh Jageshwar, so don't worry. We would come tomorrow. The village was 6-7 kilometer from our guest house but the problem was heavy snowfall. My friend and I finally reached my native place. I requested my brother to provide us with wood fire because our clothes were totally wet and we were feeling so freezed out. Usually people in villages are very kind, so he provided us with all necessities. Then he offered us dinner at his guest house. Finally, we were feeling so good.
Next morning as we woke up we were extremely happy to see the amazing scenery that was in front of our eyes. Nature was looking so nice and beautiful .We saw snow all around us and it was very happy moment that I can not express in words. Now we both decided to take our bike which was near the forest. I want to tell you that the local people are very honest and helpful. We picked up our bike and decided to visit Jageshwar Dham and enjoyed the local weather and forest for the rest of the day. In the evening we trekked to our Kunja village. My friend was enjoying it more than me because all the things were very new to him. He was totally enjoying every bit of it. This was a new experience for him. My sister cooked local food for us which was very delicious and tasty.
We enjoyed village life and met some village members. They all are very hard-working people. For once we forgot everything that behind us to that busy city life and we were just enjoying the climate and nature. We were so busy in enjoying the nature that we hardly took any photographs and videos, what we did was only enjoying every bit of our journey. We are sharing this blog only to let people know that do not plan any bike trip without having a proper plan and do follow below tips before planning any bike journey.
Travel Tips before going for a Bike Trip
1. Always plan your trip before heading to any place.
2. Plan the trip with the best season suited for the type of trip you are taking.
3. Carry all the necessary things required for your Bike trip.
4. Higher Cubic Centimeter Bikes would be preferable for trips to Hills.
5. Plan an adequate amount of distance goals with Bike that sounds real and easy to achieve.
6. Travelling in daylight is suggested as it prevents unnecessary issues.
7. Waterproof bags and raincoats are must.
8. Check the network services before heading and the operator best suitable.
Keeping all the precautions in mind, you can have the best Adventurous Bike Trip you are craving for.
You May Also Like
Guest Author
Our Guest Authors are a precious element of contribution in Uttarakhand Travel Tourism. Posting their experience and stories is an amazing experience.
About Preeti Bisht
She is a bird of passage. She loves travelling and sharing her travel stories. You can follow her on her blogging journey on UttarakhandTravelTourism.com
Connect With Us
Most Recent Blogs
Dr. Indira Hridayesh died today, veteran Uttarakhand Congressional politicians and opposition Leader in the Legislative Assembly. In Delhi, Uttarakhand Sadan
Jagar is a ritualised style of worshipping the 33 koti Devi Devta that is performed in Uttarakhand's hills, both in Kumaon and Garhwal. Jagar is a rite in which gods and local
The temple of Vimala Devi is claimed to have been built around 15 centuries ago during the Afghan and Mughal Empires. Jageshwar is located at the top of the highway