kunja-village-calling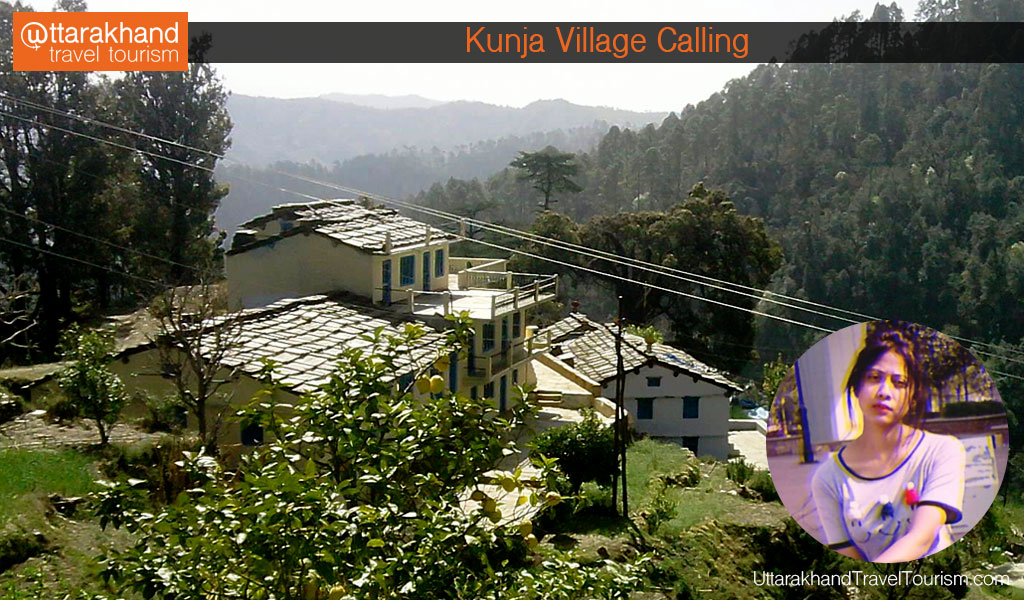 Summon from village
A place well known as the land of deities. We have always admired hill stations and always fantasized, to have our houses to be built around all these valleys. I am glad that I don't have to dream about it because god himself gifted me this place. I come from Kunja, a small village in Almora district. It's like a paradise for me. Whenever I had a chance to visit my hometown, I was always excited. Even though I have motion sickness, it never stopped me to be happy about being there. After all pleasure comes with a little bit of discomfort.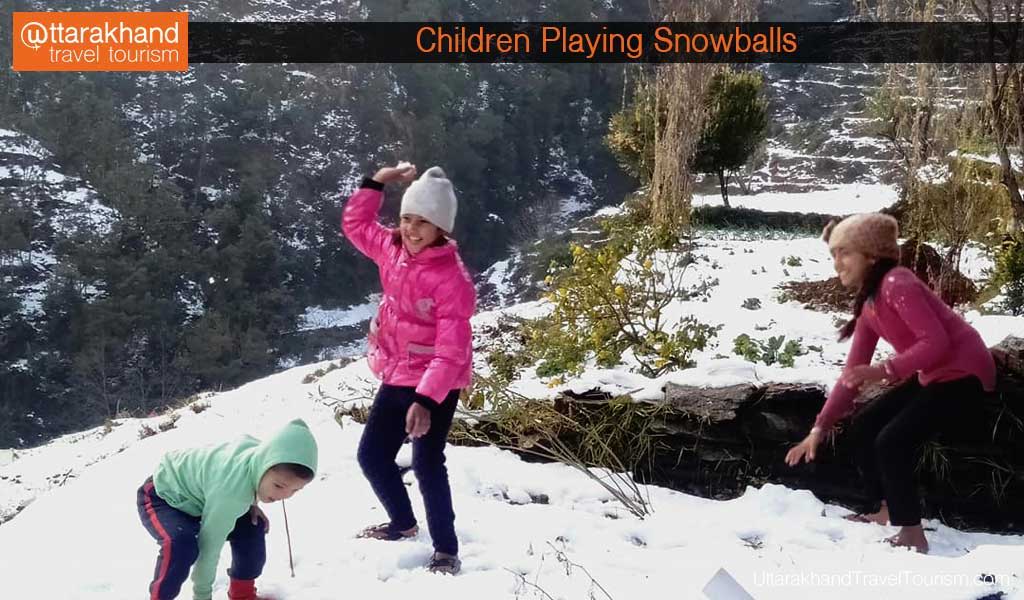 It's been ages since I last visited my hometown. I miss that positive environment and beautiful memories I have made till now. I didn't get enough opportunities to be there but every time I was there, I forgot all that chaos from Delhi. It's been 15+ years when we left our homeland* and settled here but – "These chaotic alleys can never beat the silence of my valleys". Even though I never had a chance to explore my land there is some sort of connection that attracts me towards it and compels me to explore every corner of it and tell people how amazing it is to be there. The last time I visited my hometown I was in my 10th grade and today I am a second-year college student. I miss running in my courtyard while my father would chase me. I have billions of memories from there like playing the role of a vendor, acting like a roadie while riding my wooden horse, in winters all those snowball fights with my siblings will warm my heart always, me & my cousins making fun of each other while our mothers would make us some of those cuisines like "maduye ki rotti (raagi chapati), jholi – bhat (curry-rice), hara saag (green leafy vegetables)". I miss how I would go to the forest area almost every evening to gather all those fruits like "kafal (bayberry), aadu (peach), khumani (apricot), hisalu (Himalayan raspberry) and plum". I loved playing with baby goats. Even though I am scared of buffaloes and cattle yet I always loved to feed them.
I have loved walking from ages and that's a blessing for me to have my 1st home there in the hills where you can walk for miles and admire our mother Earth. There are various temples and some of them are which I have already seen but still I want to go there again just to find peace for my soul. The Jageshwar Dham will always be close to my heart. It's a very religious place. I remember when I was a kid, I was always excited to be there and buy various things from the stalls outside the temple. I was always greedy for the food they would sell in their restraunts near it. The most lovable thing is the route to reach there from my village. It all passes through the forest area while covering all the miles I would admire all those various trees that would walk with me on the trail, the wind gushing through my hairs and making me feel as fresh as a newborn, all those birds singing to me and teaching me various things about beauty, freedom, peace. Those clean roads with minimum traffic told me how humans can have harmony with nature. As a kid I never thought about these beautiful things as I do now. I took all of this granted until now when I know what I had as a kid was a blessing.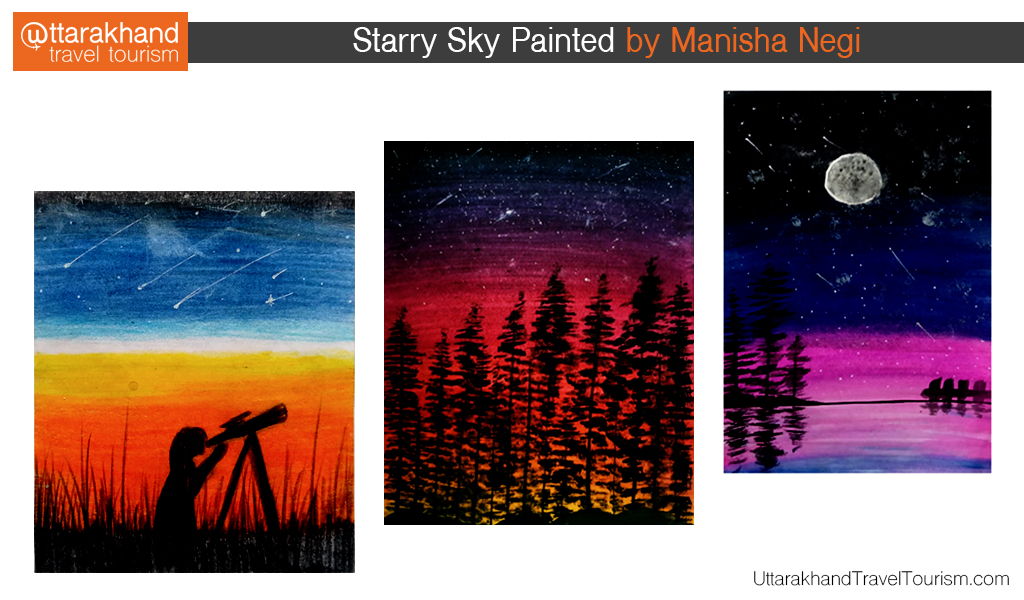 Sky has been my obsession lately and being there is like being in heaven. Those clear clouds and the colours blending in every sunset just made me more artistic every day. The colours in my pallet will never match the colours that mother nature lets us admire but I still try to match my imagination to my real world. The sky full of stars is my favourite inspiration for many of my paintings. Those Himalayan mountains, foggy mornings, dark nights and sky full of stars. Memories do bring you back to home. Every time I tried to visit my motherland something always came up like my result, my exams and many other problems. But I know one day I will succeed in my path and explore every bit of it. I know it's not a big deal to be there for some people but it's a little harder for me. I wouldn't say I have a very busy life schedule but it's somehow not easy for me to be there. Some days I would imagine being there and doing stuff I would do as a kid. I miss how the people around us always loved me for who I am, they would not criticize me or my family.
We would love being there with our whole big fat Indian family. I always loved a joint family. Every time there would be a marriage every single person from the village helps each other. The food we would eat while sitting on the floor without discriminating would taste much better than all these five-star hotels. How we would welcome the groom's family with all smiling faces and just lots of love for our customs. The major part I miss about being there is my friends, I would play with them all day and forget about all my worries. I would wander all around the village and greet all the people.
At last I want to end this blog on a positive note by saying this that no matter wherever I go or I will be, my soul would always find the way back to my home. One day I am going to explore my motherland and let you all know how I loved being there. I hope one day instead of dreaming about all these fantastic destinations, I will be there for real.
Guest Author
Our Guest Authors are a precious element of contribution in Uttarakhand Travel Tourism. Posting their experience and stories is an amazing experience.
About Preeti Bisht
She is a bird of passage. She loves travelling and sharing her travel stories. You can follow her on her blogging journey on UttarakhandTravelTourism.com
Connect With Us
Most Recent Blogs
Dr. Indira Hridayesh died today, veteran Uttarakhand Congressional politicians and opposition Leader in the Legislative Assembly. In Delhi, Uttarakhand Sadan
Jagar is a ritualised style of worshipping the 33 koti Devi Devta that is performed in Uttarakhand's hills, both in Kumaon and Garhwal. Jagar is a rite in which gods and local
The temple of Vimala Devi is claimed to have been built around 15 centuries ago during the Afghan and Mughal Empires. Jageshwar is located at the top of the highway