UTT  Village Homestay
Mountains and nature always fascinated me, as if they were a part of me. Brought up in the City, I was always drawn towards nature and villages. Travelling to many places, it was an amazing moment when I finally decided to settle down in our Village Kunja Guth, I was astonished by its beauty and that was the time that village became mine forever. 
Settling down and getting used to the village environment, there were many ideas coming through my mind. One of which were the amazing, rare and unmodified village homes with their immense architectural beauty.
Traditional houses seem very rare in the villages. Almost all houses have been renovated and old architecture rich homes seem to be modernised in full. The old dwellings are very few. With the thought to protect those rare architectural masterpieces, we planned to form Village Homestays in them where people can see the rare beauty of the old village homes of uttarakhand which are slowly and completely being modernised by people.
Our vintage home with traditional architecture was something we thought everyone should see. Thus we planned to make it a traditional homestay with only required modifications. Everything pure and Original, which adds immense beauty to our Homestays.
Uttarakhand Travel Tourism brings you the most amazing homestays of all time giving special attention to the old and traditional architecture, keeping them as it is with no modification or minimum required modifications. 
Our homestays will bring you to proper village life where you can experience the actual village style food, living and traditions. Uttarakhand Travel Tourism homestays provide meaning to what actual village homestays are.
Beauty of UTT Village Homestay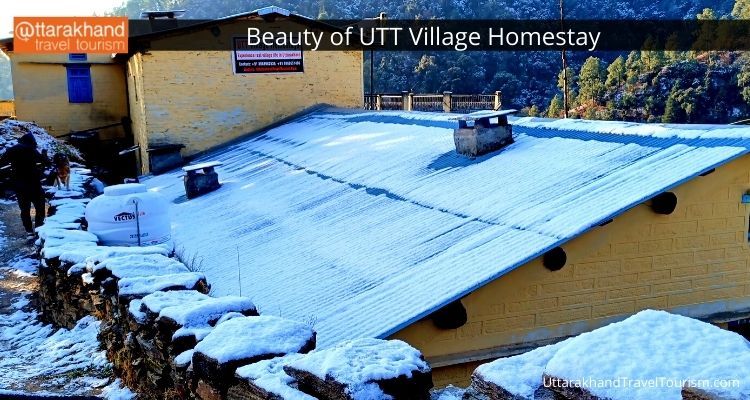 Though it's impossible to describe the beauty of this homestay in words but still trying my best to convey the most amazing place to you through my words. Describing every part of its traditional architectural beauty and some of very old forms of designs which are very rare. Rest of the beauty can only be felt.
Most of the traditional houses of Uttarakhand Villages are identically designed and made of Stone Walls, Mud Floors, Slate/Wooden roofs, Store room known as Bhad and Patangan( Courtyard of flat stones). There are mainly 4 rooms in every home containing one living room, one bedroom and a kitchen. The 4th room was made in the basement for cattles along with many other domestic animals helping as a source of mundane lifestyles and food.
Living Room Architecture of Kumaoni Homes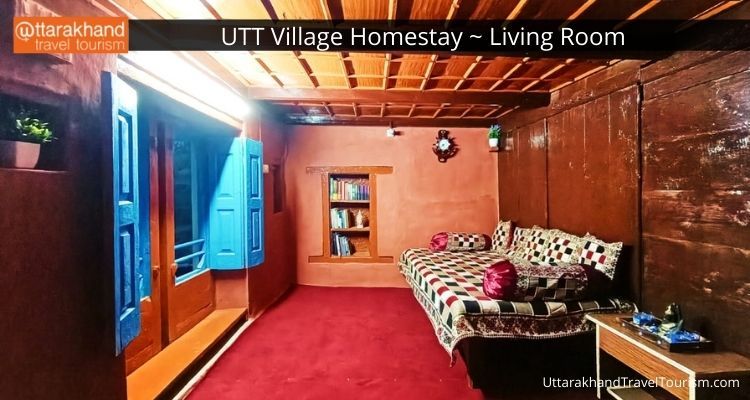 The traditional kumaon home contains a small living room with an entry door beautifully carved with wooden architecture of that time. Mostly doors and windows are painted blue in hilly areas of Uttarakhand, the reason is not quite specified but it is believed color, which plays a major part of traditional users awareness and is an important aspect of traditional architecture, is connected to the community, understanding, vision and convictions. 
The blue colour of traditional homes indicates that they have not only aesthetic appeal but have political, moral or therapeutic qualities too.  In general, cool colours are said to indicate serenity, harmony, devotion and other gentle trials owned by citizens. The use of color may mean that the inhabitants are peaceful people.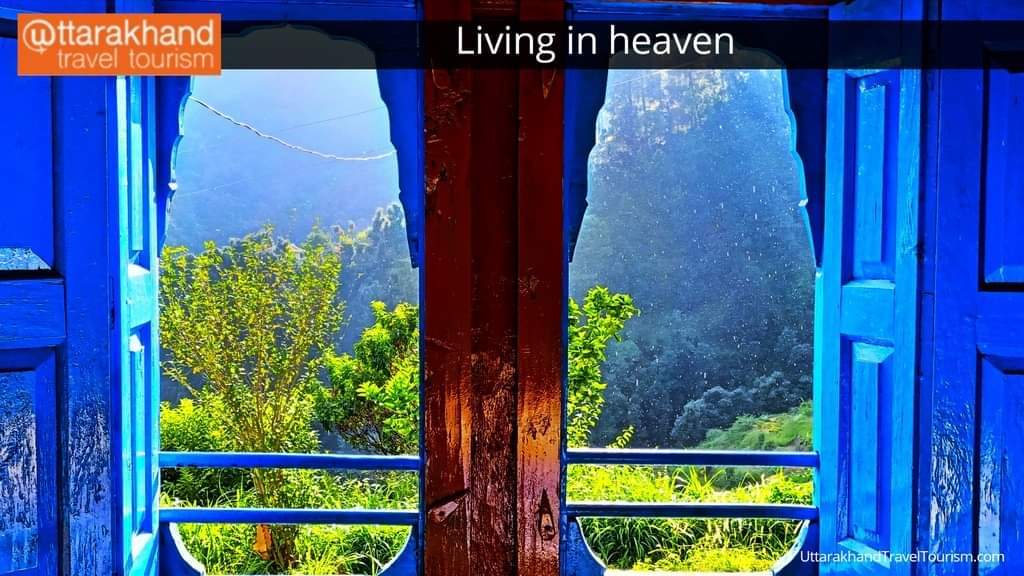 Right next to the door is the masterpiece of these houses and my favourite part is the window (Dhei). Window consists of an amazing architecture of wooden carvings. External part of the window is beautifully carved with designs. When you sit inside and view the amazing scenery from the window, it feels like heaven. The upper part of the window is temple-like architecture of hilly areas with cone shaped window locks made of wood and are very efficient. Just below the window is a flat wooden bench which was made to enjoy the weather and scenery from inside the house and to just sit & chill.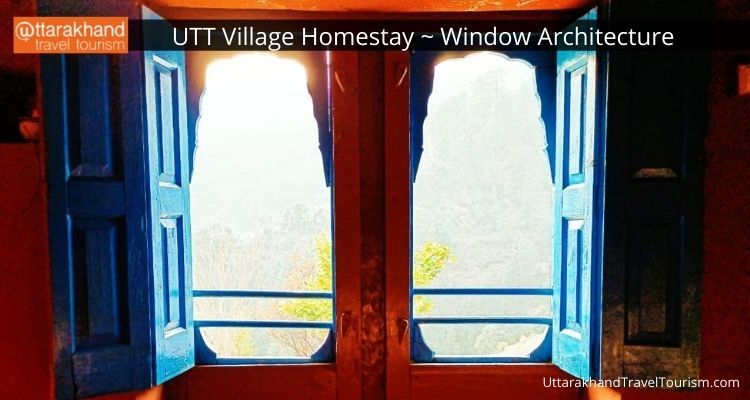 Just after entering the living room there is another masterpiece of wooden art which is the almira. They can be of different designs but the old one are basically divided into two parts. The upper part is a small space to keep handy things that are easy to access and the below part contains 3 small racks closed with a strong lock for keeping precious things that need to be rarely or occasionally accessed.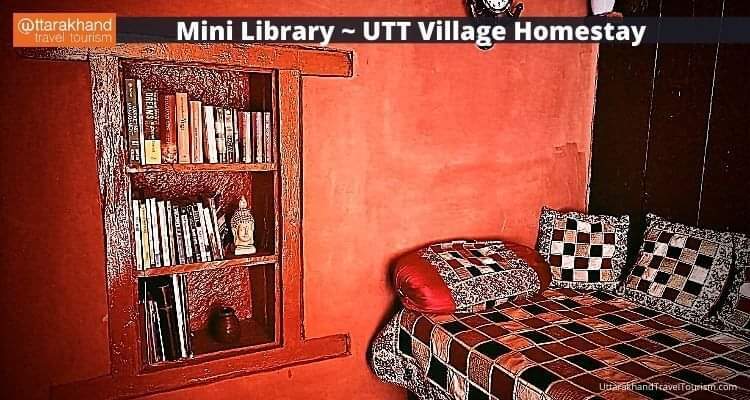 Let's come to the last but not the least part of the living room which is known as "Blank" , which displays such an amazing piece of art. This masterpiece is beautifully carved and designed when viewed from the external part of the home, from inside this particular piece had a very important role to play. When you see this piece from inside the home, it is a square/rectangular hollow area built to keep the lighting facility available at that time which is known as lamphu (Lamp) as electricity was not available to villagers at that time and back then they used to survive on this lamp. This piece is so beautifully built that when you put a lamp inside it, the whole room lightens up like a dream.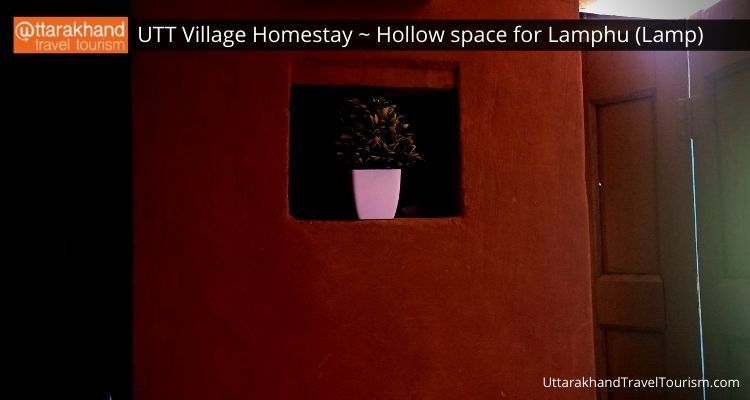 Bedroom Architecture of Kumaoni Homes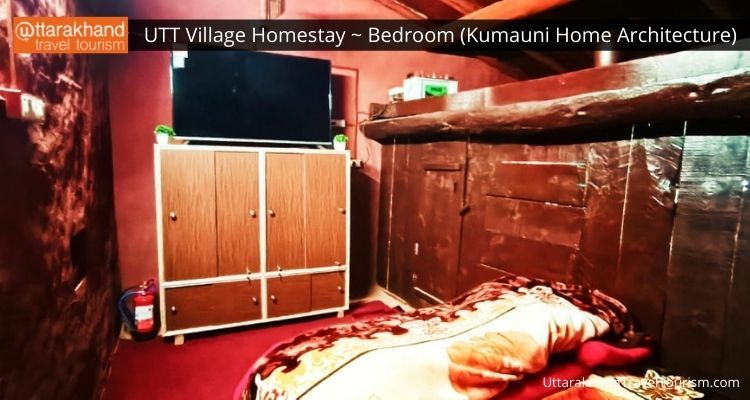 So the bedroom is exactly the same compared to the living room but can also differ as per the family size. Bedroom consists 2-3 "Blanks and  1 open almira carved in the stone walls of the house. Almira was mostly made for the purpose to build a temple place in it or to put some handy items. 
In the upper section of the home there is a big store room known as "Baad" which is a hollow space made above the roof of the first room(Living room). Baad is used to store all the extra and sometimes important useful items in it. There is also a phrase in kumaoni culture, whenever we are fed up with something or people, we say " Baad mai ja" which means "Go with the leftover things". It's funny I often used this phrase but it was later in my life in my 20's when I really understood the meaning of it ……hahahaha.
Roof of the house is made from huge woodens logs and stone slates. Nowadays people are using tin roofs to protect the house from major harm from natural calamities. 
Kitchen Architecture of Kumaoni Homes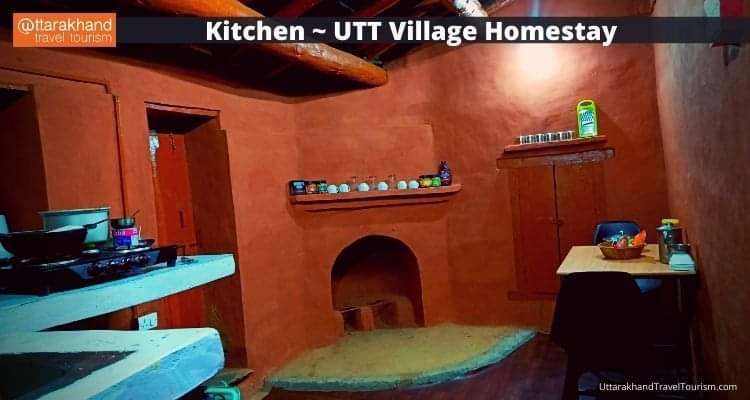 Kitchen is the gossiping ground for ladies with so much work to do and a little time to chit chat while cooking. Kitchen comprises one big fireplace, which was used to cook food and sit around in heavy snowfall seasons in winter. The fireplace architecture is pentagon shaped painted with mud. The chimney follows outside the house providing proper evacuation. 
Courtyard Architecture of Kumaoni Homes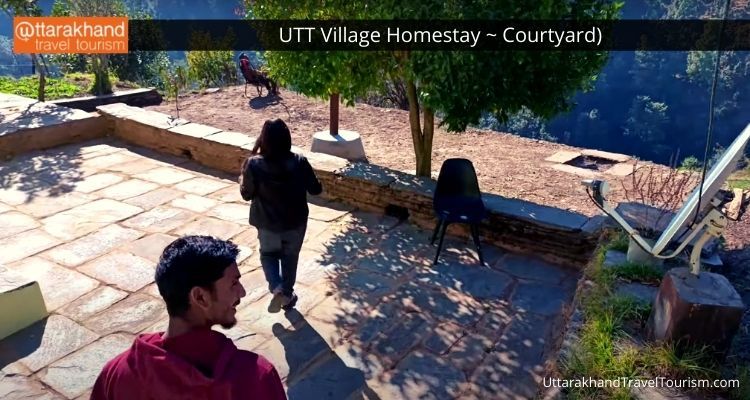 The house tour does not end here but more exciting things are yet to arrive. Outside the house is one big courtyard (Patangan) and the reason that it is so big  is that people used to tie their cattles in this place. This one thing has not changed yet and you will see every house is pampering their cattles in the courtyard from bathing to feeding, every act is performed here. 
Courtyard is made up of flat stones with a boundary surrounding it and the same boundary can be used for the sitting/ relaxing purpose also. The view of mountains is breathtaking with all the homegrown and organic fruits, vegetables, grains, Etc. 
Garden Area with Meditation Center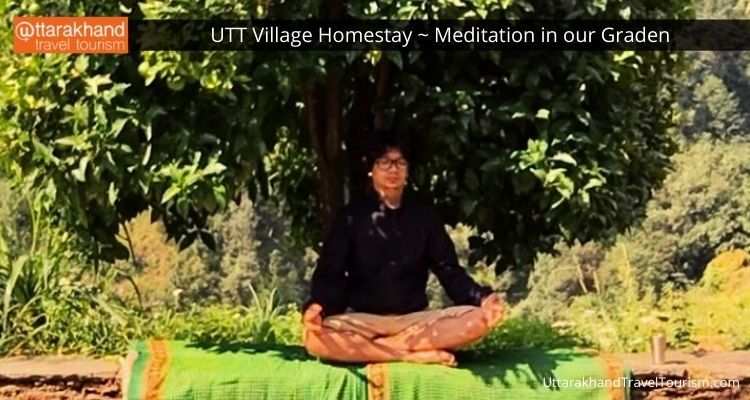 This was the only part where we are enhancing the whole look of the front end garden for our customers. The garden is beautifully enhanced with few stone chairs and tables with beautiful flowers and trees around it. We have one very holy tree just like bodhi tree but not the same. This is the main attraction of our garden, where you can sit just below the tree and meditate for hours alone. The garden is facilitated with special dinner arrangements like Candle light dinner, Romantic dinner Etc. You can just sit in the garden area alone or with friends and can chill around with the amazing mountain views just in front of the garden area. People can also enjoy seasonal fruits in our gardens like Sweet Lime, Apricot, Plums, Walnuts Etc. 
Why choose to stay in UTT Village Homestay?
Just looking at the above images, we know you are craving to be at our homestay but let us make you fall in love with our place. We don't boast much, but as we see over the time all the homestays have now been totally modernised and look like just another resort. UTT Village homestay provides you pure experience of living in a place you have never experienced before. 
We have preserved everything as they are with minimum renovation in our homestay. If we are saying homestay then we bet you will come to experience the village lifestyle, village food and village beauty. 
This trip is not for people looking for all luxury, because we are here to make you sip every drop of the village's beauty and lifestyle. We have camping, bonfire, trekking and sightseeing inclusions in our homestays with a guide who will tell you every detail information and history about the regions of Uttarakhand.
There are hundreds of Homestays for rent in the area, but we take pride in offering our own actual homes for visitors to stay in.   This essential reason ensures that the cottages are kept in good condition. The living quarters are pleasant.
The rooms are designed according to traditional believe to deliver high quantities of good energy and mental calm to the tenants. The smallest details have been attended to in order to create an atmosphere of purity, tranquilly, and tranquillity.
Our Homestay is extremely secure. There's no need to be concerned about intruders and wild animals. We don't like people invading our personal space, so we've made sure that our visitors don't have to. 
There is a group of hardworking individuals. They make sure you have a fun and peaceful holiday. We encourage you to participate in the village's activity, its kitchen and farming. Though it's totally your choice to involve or wanting to relax alone in peace, we serve both types of audience. 
Watch Below Video of UTT Village Homestay in Jageshwar: