Culture and People of Uttarakhand
Uttarakhand's culture still centers on its traditional ethics, moral values, natural simplicity, and rich mythology. The people are divided into mainly two parts, making them more well-known as Kumaoni and Garhwali.
Culture and individuals are related quite closely. "Culture and people" refers to the complex set of facts, traditions, language, laws, practices, customs, lifestyles, attitudes, convictions, and customs that, at some point in time, relate and give a common identity to a certain group of people. Uttarakhand takes this large and diverse set and implicitly introduces it to everyone.
Two Main Regions of Uttarakhand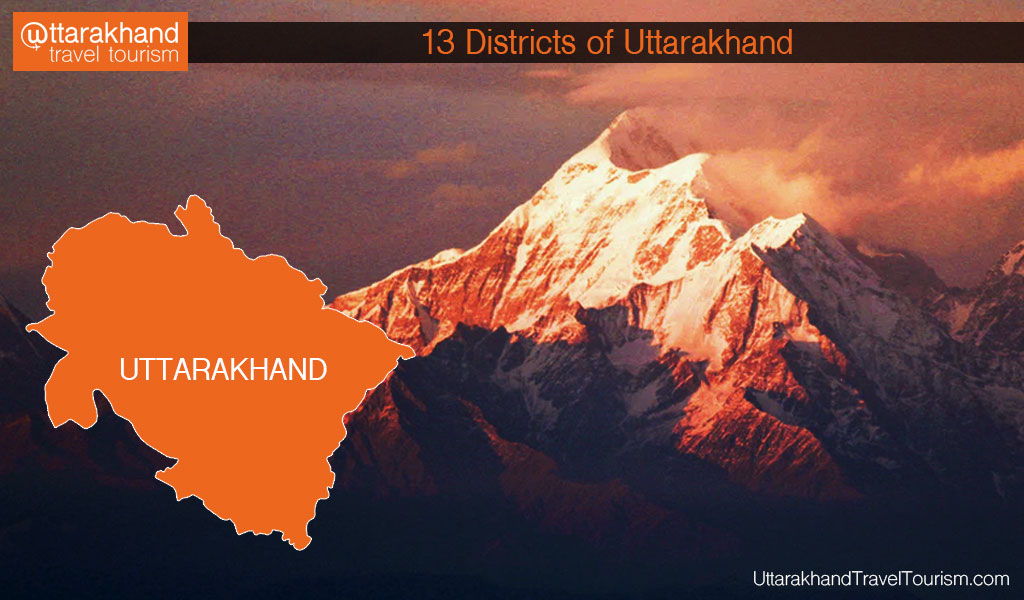 The people are divided into districts, making them more well-known as Kumaoni (Kumaon region) and Garhwali (Garhwal region). Owing to their deep root set of nature and rich mythology, the people of Uttarakhand are celebrating and performing rituals year-round. The festivals and fairs in Uttarakhand, like their simple lifestyle, are also simple but cultural.
1. Kumaon
The area is bordered by Tibet to the north, Nepal to the east, Uttar Pradesh to the south, and Garhwal to the west. The Kumaon people are called Kumaonis and speak the language Kumaoni.
The present Kumaon region's culture is a mixture of influences from both the indigenous and immigrants. The creative influences of the different cultural groups that constitute Kumaon are the legends, accents, language groups, folk literary works, festivities, fairs, and artistic freedom are thus examples.
Kumaon is said to be the birthplace of Pahari Kalam, another world-famous style of painting. Kumaon, however, is known as Aipan or Alpana as the most popular art form. Kumaon people speak thirteen dialects. 
Kumaon is also rich in his folk writings consisting of myths, villains, villains, courage, goddesses, and Ramayana and Mahabharata characters. Kumaon's most popular form of dance is the Chhalaria, which has to do with the region's martial traditions. Every festival is held with great enthusiasm and even today it presents such traditional forms of dance.
2. Garhwal
Garhwal is a Uttarakhand state territory and administrative district lying in the laps of the Himalayas. It is bordered by Tibet to the north, Kumaon to the east, Uttar Pradesh to the south, and Himachal Pradesh to the west. 
Garhwali culture is characterized by tradition, men, faith, and dance. All of them are a beautiful fusion of various factors of all the races and dynasties which have governed them. 
History of Garhwal is tested against the arts, culture and is sufficiently important to take account of an individual. Dances are connected with life and demonstrate countless feelings and emotions. 
All the local people, while outside of the state or the region, are invited to the inauguration of a village temple and all important functions.
Cultural Heritage of Uttarakhand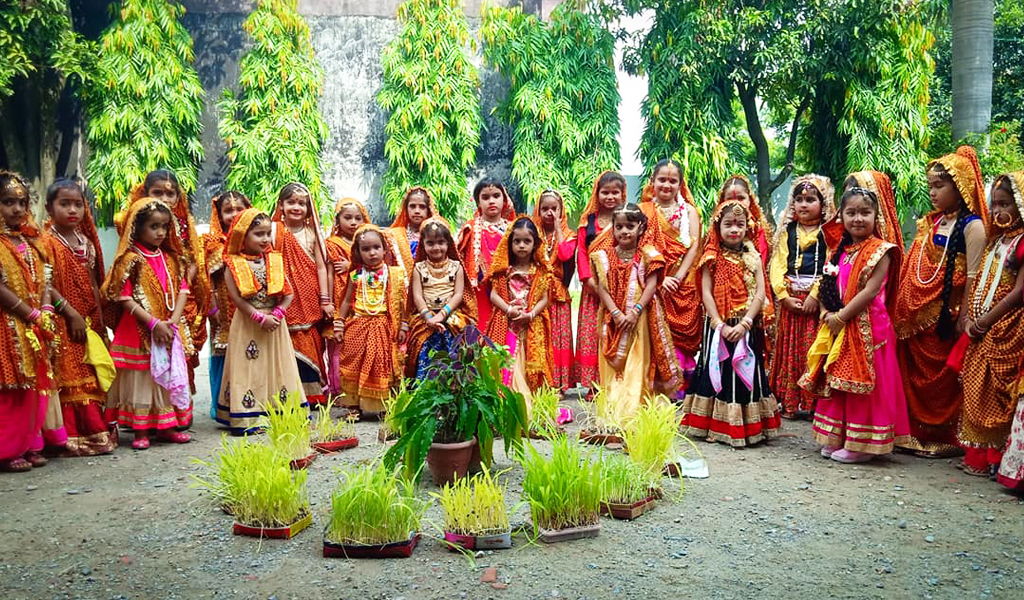 Uttarakhand's people are proud of their culture and Heritage. It houses people from many sub-groups and ethnic groups together under one roof, which is the beauty of the State of Uttarakhand. 
This paper talks about Uttarakhand people's culture, beliefs, and traditions. Traditions, religions, fairs, festivals, folk dances, music are what separate these people from the rest of the crowd.
10 Most Famous Fairs and Festivals of Uttarakhand
The Uttarakhand fairs and festivals are a lifestyle, the people of the state take solace equally for small and huge victories, honoring unlimited supply of nature and encouraging the unwavering bonds of love. 
Kumaon and Garhwal celebrate separate fairs and festivals, but very identical festivities all year round in the two distinct regions of Uttarakhand. People prepare for the holidays and enjoy one another with sweets, flowers, Etc. Here are some fairs and festivals that are very famous in Uttarakhand
The festival is a mixture of two months of colors, spirituality, and music. Music is at the center of the festival, where people from the region are very particular about folk songs, which are performed by Bhimpalasi, Peelu, and Sarang after dawn while Shyam Kalyan, Yaman, and Kalyan ragas are performed at night. 
Holi is celebrated in different forms such as Mahila Holi, Baithaki Holi, and Khadi Holi are different. Gujia and aloo ke gutka are the most famous dishes served at this festival.
2. International Yoga Festival
The festival includes 70 hours of yoga and 4 AM to 9.30 pm yoga classes. Some therapies offered over the course of the week include Vinyasa Yoga, Bhakti Yoga, Kundalini Yoga, Raja Yoga, Iyengar Yoga, Ashtanga Yoga, Bharat Yoga, Deep Yoga, and Shintoh Yoga. A cultural festival will also be held where performers from the USA, Australia, and Israel come together to exhibit dancing forms and music of the world.
Thousands of saints, women and fans gather in the water of the Ganga River to take a bath. Kumbh Mela is a festival lasting three months. Many citizens gather at Haridwar on the banks of the River Ganga.
There is devotional singing in the populated place. Multiple sadhus of the diverse Akharas show up in Kumbh Mela and are given an opportunity to swim according to the chain of command.
4. Kanwar Yatra
The Lord Shiva's devotees hold the 'Kanwar' on both their shoulders during Kanwar Yatra. From half of July to August the Yatra will take place. It's nearly a month of pilgrimages, therefore, during which people in Haridwar, Gangotri, or Gaumukh wear saffron-colored clothes, walk naked from the chosen destination for the holy water from the Ganges. 
The Kanwarias will rest awhile on the route with provided facilities. Some followers are on their own private vehicle traveling the distance on foot. Numerous Nongovernmental organizations provide services for free to Kanwarias, such as food, water, tea, or healthcare.
5. Harela
Women fill the bowl with soil and plant seven forms of grains. During the Harela Shravan, Gauri, Maheshwar, and Ganesha are made of clay statues to worship. Putting  Harela's leaves on their heads freshly cut and giving them to their relatives and friends as well.
6. Ganga Dussehra Festival
This festival has been conducted in May / June for ten days. Worshippers take a dip into the river's holy water to purify their sin. Aarti takes place in the evening, sandstone lights (Diya) on the river float, and the worshippers sing poetic songs. 
The Yamuna River is also decorated the same day. Unlike Ganga, fans also dip into the holy Yamuna River at the places where the river flows.
7. Purnagiri Mela
The Temple of Shri Purnagiri is organized by Purnagiri Mela. The Mela is held annually over two months in Chaitra Navratri. The temple of Purnagiri is a place to visit for pilgrims all year long and is among the 108 Siddha Peethas.
This Fair is held in Chamoli, Bageshwar, Almora,Nainital, Nauti, Dandidhara, Mussoorie, Kichha, Bhowali ,Ranikhet, for five or seven days. You will experience Kumaon's folk culture, dance, and songs. 
The festival begins early in the morning and runs until 9:00 pm. Entire festival is supposed to worship Nanda Devi, the goddess. In order to demonstrate their talents, small schools, colleges, and local performers are part of the festival. On the last day of the fair, devotees must submerge the dola of Nanda and Sunanda Devi in the water.
9. Phool Dei Festival
A jaggery pudding is the festival's main dish. The festival demonstrates the internal connection between the hill communities. Young girls in the villages pluck the season's first flowers and disperse these flowers into their village house and Neighbours.The spring is embraced with songs by the folk singers.
10. Uttarayani Mela
On the bank of the Saryu River in Bageshwar, a grand fair is held where different regional products can be purchased including iron or copper vessels, baskets, fences, articles of bamboo, mats, mattresses, tapestries, banners, herbs, and spices.   For the purification of their sins, people take a holy dip in the water.
10 Most famous Music and Dance form of Uttarakhand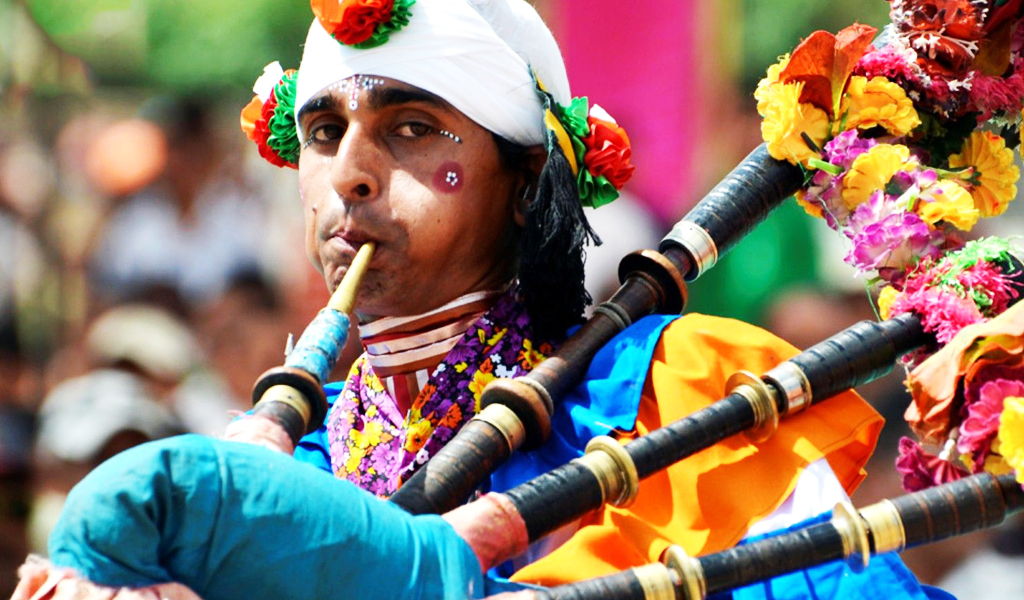 The music of Uttarakhand is extremely valuable and amazing. The many musical instruments that increase the state's traditional music are joined by a mix of traditional culture, indigenous songs, and popular songs. 
Uttarakhand's folk dances are deeply rooted in tradition. In accordance with its ancient belief, the art of dancing owes its stimulation to the enchanting illusion dancer, who lodges at snow hills and is therefore described as Kecharis and Ancheris. 
Some believed they were the spirits of young girls who died without any funeral ceremonies.
The men's dresses are the costumes that the fighters wear during wartime fighting with the beats of music and creating a war situation. 
Choliya as a form of art is a fusion of over a thousand years of music and performance. Specifically, the dance comes from the Uttarakhand Kumaun District.  
This dance is performed by the male Rajputs with swords and shields, usually, Harijans called Dholies while Bairagis, Jogis, or Gosains perform Turi and Ransing. This dance is specifically performed in kumauni Marriages.
2. Barada Natidance
Barada Nati folk dance is one of the most beautiful Chakrata Tehsil dances in the Dehradun district. 
This beautiful dance is performed at some Festival of Religion. Both males and females perform together in this dance. This famous dance dress code is a colourful traditional costume.
Jagar is represented as God's voice.
Jagar
is a ritual through which the Kumaon and Garhwal tribe seeks justice for some cases to the local gods and deities. Jagar is a spiritual devotion genre, in the form of a folk song. 
Jagar also is in the form of folk songs from Puja and is chanted with respect to the various gods and goddesses.
It is a state-owned cultural dance. Both men and women performed this dance forming a circle and moving in a sync with each other. It is often danced at the approach of spring, either in the morning or in the evening. 
It is usually performed at fairs, festivals, and weddings to be celebrated. The performers both men and women, begin to sing Hurka's very first song.
5. Langvir Nritya
In the state area of Garhwal, this dance is well known. This is an exciting dance and is only performed by people. A long bamboo pole is set during the dance. The male dancer climbs to the top of this pole and then his stomach maintains the sense of balance. 
Under the rope, with the aid of 'Dhol' and 'Damana,' a band of musical group composes music and the dancer switches on the top of the ring.
6. Chappeli Dance
This is a dance group that includes a couple of performances and a female Chhapeli holds in her left hand a mirror and a colorful handkerchief in her right hand during the show. 
The male will play a Hudukka in general with the aid of his left shoulder supported by others playing the Hurka, Manjira and Flute. This dance symbolizes love, attention, and romance. 
The couples performing the Chhapeli dance, according to the saying, intended to improve their relationship while dancing with colorful clothes and instruments in hand. This dance is a way for couples to show their love for one another.
7. Chancheri Dance
There is a group dance performed by the men and women in a semicircle in the district of Bageshwar with increasingly growing speed transmitting unbridled joy. In the semicircle, the female dancers performed, and the male performed in the rest of the circle. In this community dance, love and inspiring music are played.
8. Chhura
Folk songs between shepherds are sung as therapy for young people, taught by the elderly, particularly in grazing animals in fields.
9. Khuded
Such folk songs describe a woman's pain because of her husband's separation. When the husband is away looking for a job, she usually disregards the circumstances in which she is separated.
10. Mangal Songs
These songs are sung at ceremonies of marriage. These songs are essentially Puja songs, which are sung alongside the Purohits who keep Shlokas enhancing in Sanskrit during the wedding ceremony.
Major 5 Tribes of Uttarakhand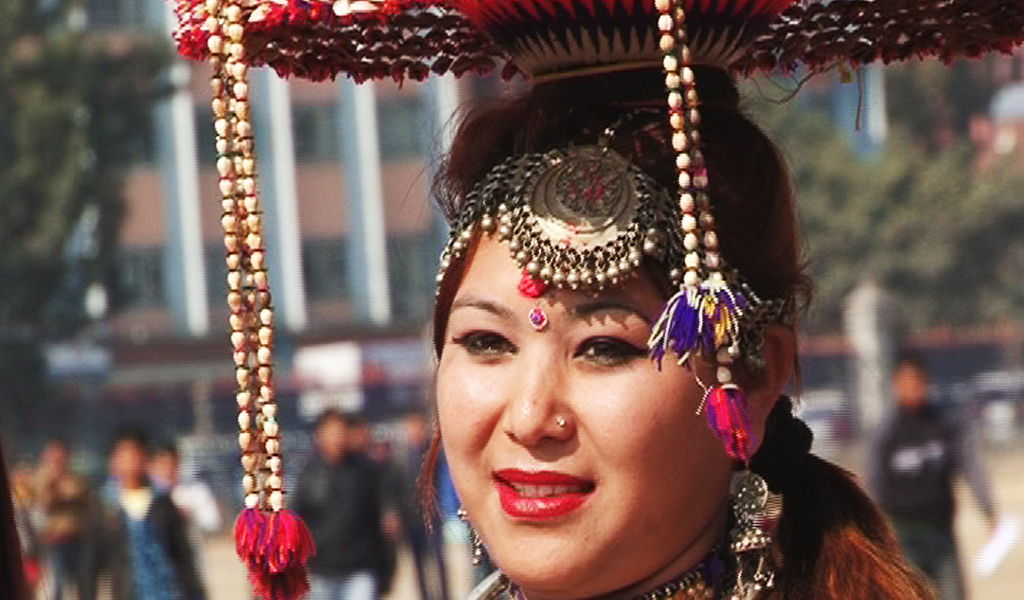 Today's Uttarakhand brings the exciting atmosphere of life with people from various cultures and faiths, which contributes to transforming it into a marvelous abundance of life. 
The original indigenous people of the land of Uttarakhand have a distinct and rich culture in various tribes. The Uttarakhand tribes are primarily made up of five major classes, namely Jaunsari, Tharu, Raji, Buksa, and Bhotiyas tribes. The tribe of Jaunsari is the largest population of the tribal state.
1. Jhaunsari Tribe
The Jaunsari is a small community found more specifically in Uttarakhand in northern India. 'Mahasu Devta, the principal deity of the Jaunsari Tribus,' reveres Jaunsari culture. The Jaunsari culture is made up of music and dance.
2. Tharu Tribe
The Tharu are an ethnic group in southern Nepal and northern India that is native to the Terai. The Government of Nepal recognizes them as an official nationality. They live primarily in Uttarakhand, Uttar Pradesh and Bihar in the Indian Terai.
3. Raji Tribe
The Raji tribe is one of India's smallest tribes and is a pedagogically and economically backward tribe from Pithoragarh Central Himalaya and Uttarakhand's Champawat districts. This tribal group is made up of about 679 (0.27 percent) of Uttarakhand's total Tribal population.
4. Buksa Tribe
Bhoksa is indigenous people primarily in the Indian states of Buksa (also known as Buksa). The Scheduled Tribe status was granted to both groups.
5. Bhotiya Tribe
Bhotiya is a group of Tibetans living in the Trans-Himalayan region, with ethnolinguistic links, dividing India into Tibet. The term "Bhotiya" is derived from Tibet's classic name Bod. There are several languages in Bhotiya, including Ladakhi.
Traditional Dresses of Uttarakhand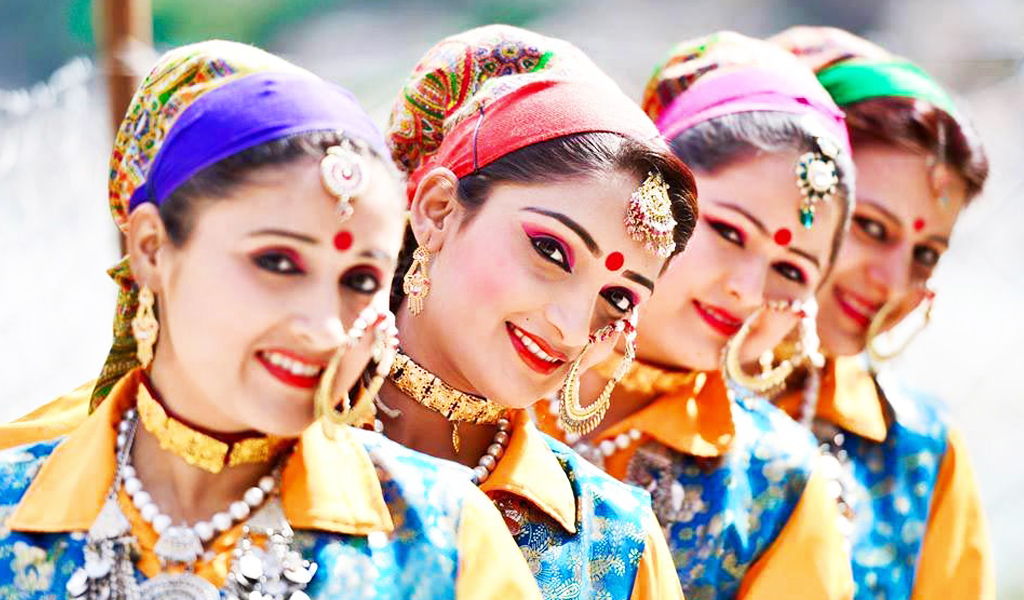 Silver and gold is a major component of the traditional costume of Uttarakhand. You notice women who wear gold kundal and sometimes have many piercings in their ears on their visits to Uttarakhand. 
Uttarakhand is inhabited by people of different ethnic backgrounds such as Rajputs, Brahmins, and tribal peoples such as Tharu, Jaunsari, Bhotia, among others. There is also a great deal of variety in traditional clothing.
Uttarakhand is the home to 5 primarily Tharu, Jannsari, Buksa, Bhotia, and Raji tribes as per the 2001 Census. In the Pithoragarh and Udham Singh Nagar districts,  Dehradun and Chamoli of Garhwal have the majority of tribal populations.
Kumaoni Region Traditional Dresses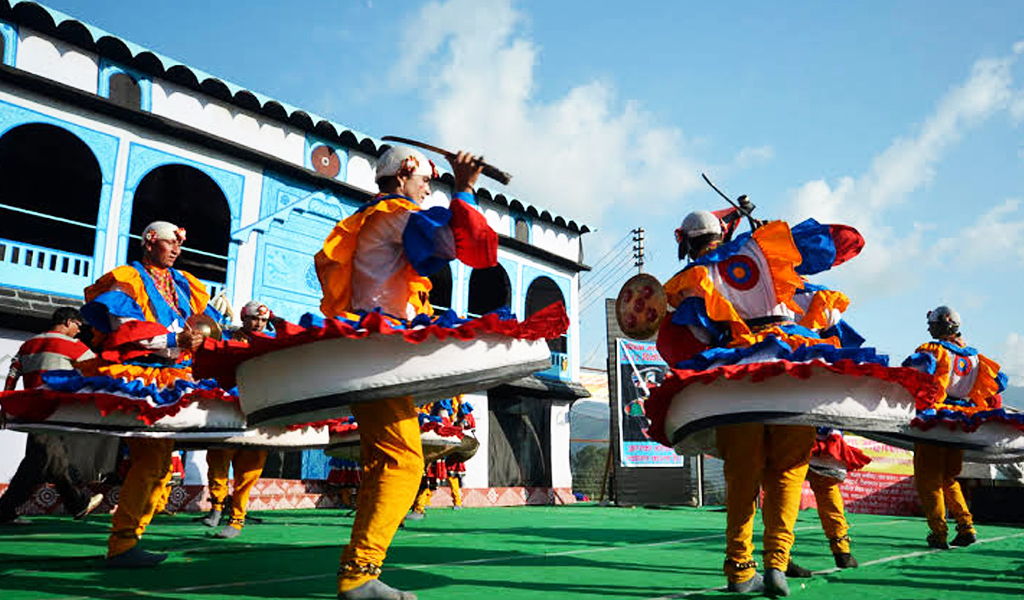 Women in the Kumaon can be found wearing a ghagra and a blouse. Kumaoni women also wear pichoras, a type of clothing that is popular during weddings and ceremonies. 
Traditionally, it was dyed and made at home. Even today, women are wearing this traditional pichora on their wedding day. In the Kumaon region, married women wear large naths made of gold covering their entire cheek, hansuli, black beaded necklace or chareu, bichuye (toe rings) made of silver, and areoor. 
They were considered mandatory. A woman decorated with traditional jewelry
Men's Dresses in Kumaon
The regular clothing of the men of the Kumaon region is similar to that of Garhwali. They 're wearing kurta and pajamas along with a turban or topi. They can be found, however, wearing jewelry on their necks or hands. Nothing unique to the area of Kumaon.
Garhwali Region Traditional Dresses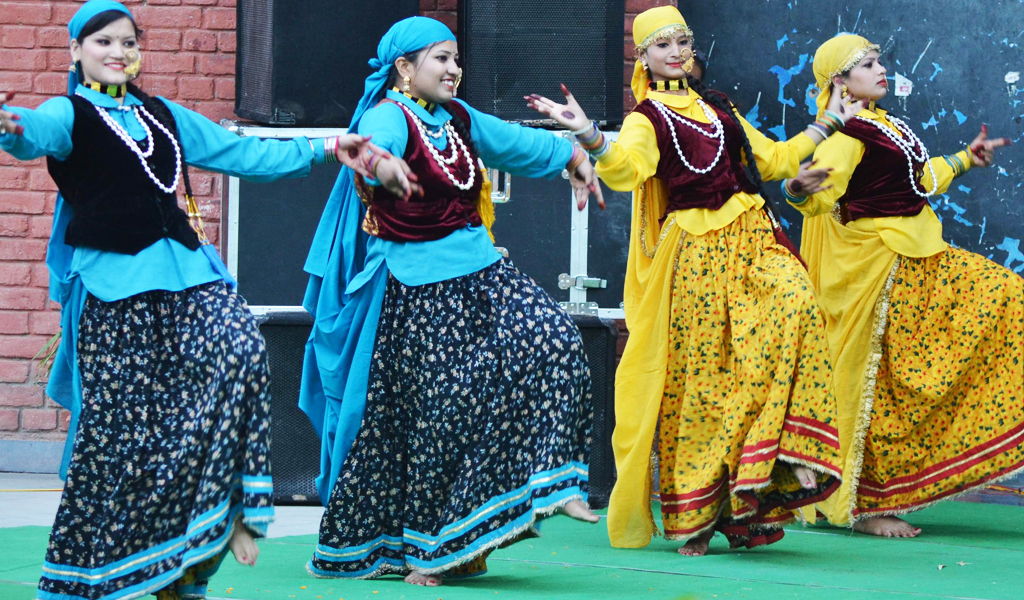 Womens Dresses in Garhwal
Pallu in Garhwal goes from the front of the shoulder and ties with a waistband made of fabric, making working in the fields simpler. Previously, a full-fledged sleeved sari was used to shield women from cold, Angra (blouse) with silver buttons.
They also donate a scarf for protecting your hair against harm and harvesting.  A woman married was expected to wear hansuli (silver ornament), wearing the cuff around the waist, guluband, black beads and silver necklace, silver payal, silver collar, silver dhagulas (bracelets) and bichuye (pinchers).
Sindoor was also obligatory for a married woman along with bindi.
Men's Dresses in Garhwal
Garhwali men usually wear kurta and pajamas. This is coupled with a topi to protect themselves from the cold. During weddings, the yellow dhoti and kurta are still the favorite dress for the groom. The fabric used for clothing differs according to the weather conditions of the region, the wool in the colder regions, and the cotton in the warmer regions.
Tribal People Traditional Dresses
Jhaunsaris Men and Women Dresses
Jaunsaris claim to be heirs of Mahabharat Pandavas. They have a distinct clothing style that is very vivid, involving a lot of jewelry, making them stand apart from their neighbors in Garhwali. 
Even men wear jewelry such as earrings, kadas, necklaces, etc. along with a traditional cap called digwa made of woolen cloth. Women wear ghagra, dhantu (scarf) and woolen hat. Thalka or Lohiya, which is a long coat, are worn during festivals.
Bhotia Men and Women Dresses
Bhotia is a Mongoloid ethnic agricultural cum pastoral group. They live at the state's higher altitude, where the atmosphere is frigid. They knit yarn from wool and lace their clothes from woolen. 
The women's traditional dress consists of a skirt, a shirt, a waistcoat, and a coat. Their arms, ears, and nose are typically decorated with golden or silver beads, pins, and nose rings. Usually, men wear trousers and a loose gown tied around the waist with a woolen cloth called patta and a woolen cap over it.