Chitai Golu Devta Temple: Most Famous Temple in Almora, Uttarakhand
Uttarakhand is the axis of very famous Temples in India. We Pray 33 million Hindu Gods and Goddesses in India and from which Uttarakhand is a key attraction for the spiritual crowd. One of the most famous and sacred places is Chitai Golu Devta Temple. It is 96.2 km away from the main city Haldwani and 8 km from Almora, Haldwani is the main connecting city for Kumaon and Garhwal Region. This temple is dedicated to Golu devta or Goril devta which is one of the main devoted gods in Uttarakhand. Golu devta used to travel on his white horse and meet people in his kingdom. He was very dedicated to people and used to solve their problems, he used to follow Brahmacharya and devoted his life to the wellbeing of people.
Chitai Golu Devta Temple is a sacred place where people come and pray to God, and hope their wishes come true. What amaze the most is that whenever any wish is granted it is said that people come back to pray as a thanksgiving, offering Bells to Temple. Some people also practice Animal(Goat) sacrifice when their wish comes true, it is believed that this kind of offering is done when a person is in a very distressed position. People have a very firm belief that this temple is the very center where all their prayers are answered. People with different types of problems including family, health-related, finance-related, etc come here and pray for their well being and it is said that most of the wishes come true when prayed with full devotion.
When you are devoted and fully involved with something, magic unveils. There is a very unique way of praying in this Temple. People no matter the age come here, write all their prayers and wishes in a paper and pin their letter outside the temple with Bells. And it is not allowed for tourists or local devotees coming to visit the Temple to open or read any of the prayers written.
Roots of Chitai Golu Devta Temple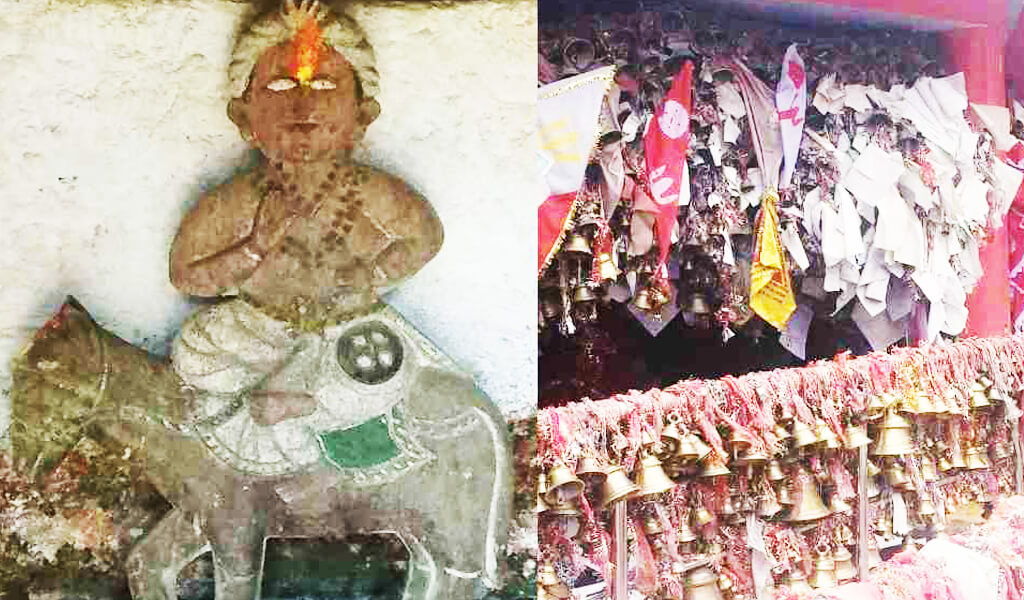 Chitai Golu Devta Temple belongs to the 12th century and was built under the rule of the Chand Dynasty when Golu Devta used to rule the Almora.
The Chand dynasty was the Golden Era of the Katyuri dynasty and Golu devta used to rule the Kumaon and Garhwal region. This temple slowly gained popularity among tourists and local people. The ruler Golu Devta which is one holy God of Uttarakhand used to solve people's issues in this place and so this place is popular and it is believed that this place is still a pilgrimage where all your prayers will be answered by Golu Devta.
The Architectural knowledge of the Katyuri dynasty results in many Shiva Temples in that era. This knowledge was then transferred and followed by adding some more enhanced interlocked techniques of construction by the Chand dynasty. Chitai Golu Devta Temple is the only temple in Uttarakhand where written applications are submitted by devotees in the Temple to fulfill their wishes. The Architecture is similar to every other temple of Uttarakhand but Multiple Copper bells in the Temple separated it from every other Temple. The Golu Devta statue sitting on his Horse is in the main temple situated in the middle of the Whole Temple area.
The statue of the Golu devta is made of pure white marble sitting in his Horse and a sword in hand. People worship and offer their prayers in the Main Temple. It is believed that the spirit of the the Golu Devta spirit still binds the temple and its devotees.
Best Season to Visit Chitai Golu Devta Temple
The best season to visit Almora is in Summers though the area is a full-year tourist place. The Average temperature in summers during the day is 20 °C to 25 °C and the night's average temperature of 15 °C with seasonal rainfall. The best months lie from April to June and September to November.
Climate and Temperature are awesome during the mentioned time and tourists can have an amazing experience throughout.
Activities to do Nearby Chitai Golu Devta Temple
No matter what your purpose of visiting Almora, whether it's spiritual/Adventure/Luxury, there are a number of things nearby that you can enjoy.
Almora is a beautiful town, with its rich culture and heritage, beautiful mountains and lands people can experience every bit of its Flora and fauna.
Below are some of the main attractions which you must visit and things you must do whenever visiting Almora.
Hiking: Almora is heaven for people who like to Hike. Explore the forests and nature in Almora including all the nearby mountains. Some of the best places to Hike are Kesar Devi, Zero Point Trek, Jageshwar Temple, Jhandi Top, etc
Trekking: People can Trek in Almora enjoying the flora and fauna of the village. Arrange your trip in the most adventurous manner where after tracking you can further move to nearby places like Jageshwar, Jhandi top, Zero Point Trek, Kuari pass Trek, etc with our local chaperon.
Bird Watching: Almora is an awesome destination for birding. So many Himalayan birds flow here in the winter season. So few birds like Himalayan Vulture, Steppe Eagle, Bonell's Eagle, Mountain Hawk Eagle, Mountain Scoop Owl, etc can be seen in this season. You can also carry your picnic basket and make the most out of this village's natural beauty and weather. Some places like Binsar, pangot, etc are considered best for Birding.
Yoga and Meditation: Almora is a town and is best for spiritual expansion for any individual in its natural heritage; everyone can flourish their own inner experience. You don't need to attend any special classes and pay for this when nature is all around you. Just find the best spot for yourself and set yourself up for the day. What can be more magical than a starry night and breezy weather with your clan. Plan awesome camping either by your own source or you can contact local camping planners in Almora to plan it for you.
Sightseeing: Apart from beautiful Almora, there are many places nearby that you must visit. It will take a maximum of two days to plan proper sightseeing including all nearby places. There are some main attractions nearby that can be covered like Golf Ground, Jageshwar Dham, Dandeshwar Temple, Lakulisha, Mirtola ashram, etc. You can learn a lot about these hidden gems with our local guide.
Places to Visit Nearby Chitai Golu Devta Temple
Jageshwar Temple: Jageshwar is located at an elevation of 1,870 mts above sea level and at a distance of 37 km from Almora. This is a bit of a cliche: there are a total of 125 temples and hundreds of statues in Jageshwar Dham but usually, it is stated that the number of temples is 124 due to lack of information. As I have personally visited this place , I can tell that there is a hoarding outside of the temple where you can see the exact number of temples.The beauty of the place is elevated by the Deodar trees and the Shiv Jata Ganga which makes its way into the temple. It is an important tourist destination of Kumaon and receives thousands of visitors every year and believed to be abode of one of the twelve "Jyotirlingas' ', it is one of the most important religious places for Hindus in the state of Uttarakhand. It is a local tale which is firmly believed by the villagers that Lord shiva would come here to meditate in the complete peace.
Dandeshwar Temple: Dandeshwar temple is situated slightly upstream from the jageshwar temple complex. This place is 200 mts from Artola village. The dandeshwar temple complex is in a broken-down situation with many of the relics turned into ruins.
Vriddha(Old) Jageshwar Temple: "Vridh Jageshwar" or Old Jageshwar is a hindu pilgrimage dedicated to Lord Shiva.It is believed that it is older than Jageshwar Temple hence name so.As per villagers ,King Chand saw a cow which was milking itself in a stone, and so the story continues that on the sight of which it was named as Old jageshwar . The temple is about 3 km uphill Jageshwar, called the old shiva, is said to be the abode of Lord Shiva before he came down to Jageshwar.
Mirtola: Mirtola ashram is a small village, which is 25km away from almora established by Sri Yashoda Ma, a woman turned ascetic in the 1930, along with her disciple Sri Krishna Prem. Mirtola ashram is also known as "Uttar Vrindavan". Mirtola ashram is on the way to pithoragarh from almora, 3 km to the left after Panuanaula, 25km after almora. Radha krishna temple was built in Mirtola ashram by "Sri Yashoda Ma" in 1931, the founder and the head of Mirtola ashram.
Katarmal Sun Temple : Katarmal Sun Temple also known as Katarmal Surya Temple was built in the 9th century by Katarmalla (The Katyuri King). It is 25 km away from Almora Town. The architecture of the temple is similar to that of Jageshwar Dham. This vintage site attracts the one who is interested in the beauty of history and architecture. Main temple is surrounded by 44 small temples around it.
How to Reach Almora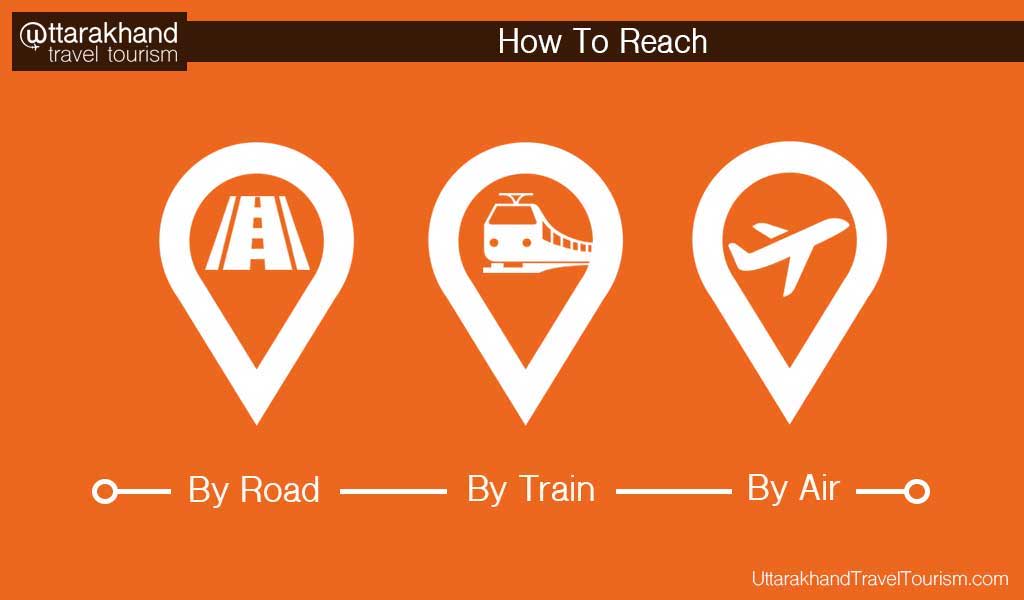 Almora is a very well known town and it's easy to reach here with an ease. People can use below mediums to travel as per their planned budget:
Reach Almora By Road: Almora is well linked with destinations like Haldwani, Pithoragarh, Jageshwar and so on. Government undertaking roadways buses are operating on a regular basis from these places to Almora. The distance between Delhi and Almora is around 398 kilometers. Buses also run from ISBT Gate Delhi, to Haldwani and Almora as well.
Reach Almora By Train: The closest railway station is Kathgodam. The railway station is at a distance of 81.9 kilometers from Almora. Kathgodam railway station is well connected with Delhi, Howrah and Lucknow. One can buy tickets which costs around Rs. 150 up to Kathgodam. So, it is very important to make a reservation at least 2 months before for a comfortable journey. Taxis are available at the station to the town as per your budget and luxury modes. A taxi may charge about Rs. 3000-4000 for one trip from Kathgodam station to Almora.
Reach Almora By Air: People can reach Pantnagar airport as it is the nearest airport to the city. People can also take flights from Indira Gandhi International Airport to Pantnagar airport. Pantnagar is approximately 116.2 kilometer away from Almora. Luxury buses, taxis and Volvo cars are easily accessible till Jageshwar from Pantnagar airport. This is an international airway so tourists from outside India can also reach Almora through Pantnagar airport.
Tips for Solo Travellers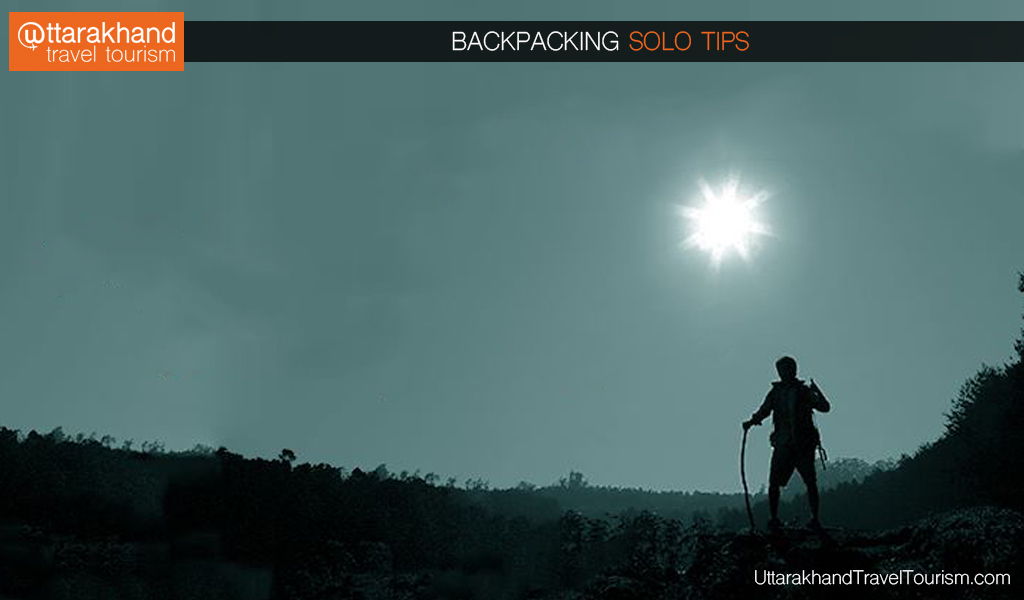 Though it's safe to travel solo to Chitai Temple in state of Uttarakhand but still you have to keep in mind a few things before planning a Solo trip. Take care of below things before planning:
Plan your stay before arriving. At the time of peak seasons , Hotels are fully packed, so you can go through a little bit of unease. So better to plan in advance.
Pack all your warm belongings, this place is colder all round the year and nights are even more chilling. Pack all your sweaters and shawls before heading for the Trip.
Places to be visited should be planned in advance if you are travelling solo. As transportation details, distance and modes should be preplanned to prevent any delays.
Follow the rules of the town when Travelling. It is always suggested to read some guidelines to follow before you visit any place. Almora is a clean and well maintained Tourist spot, so avoid being irresponsible while roaming around. Read some rituals before entering some sacred places to avoid any fuss.
Avoid travelling by your own vehicle until and unless you are well trained in it. Route is full of Risky Turns and Sharp edges, So plan your trip safely.
Avoid Travelling alone to very remote places. Try to travel with people around and avoid going to very remote places without any troops/ grouping accompanying you distantly.
It is advised that you must carry some cash, as people can face issues during transactions. Some local shops may not accept card and online transactions.
Experience an immense peace in this consecrated Temple. There is so much to see that is very unique here and one of a kind. Don't forget to write your application to God and make a wish!
Please comment below and do tell us any information about Chitai Golu Devta Temple that we may have missed in the comment box.
You May Also Like