Arts and Crafts of Uttarakhand
With the fusion of Khasa and Kirati cultures, Uttarakhand has become a great source of multiple cultures. The Uttarakhand heritage of painting was limited only to the previous Territory of Garhwal, under the influence of Mughal and western Pahari schools, Arts and Crafts of Uttarakhand flourished in Uttarakhand.
The art and craft in the
state of Uttarakhand
are extremely rich and need an in-depth look. In Uttarakhand, a wealth of heritage has been drawn from various arts and crafts, such as painting, woodcarving, jewelry, candlemaking, and decorative temples.
Wood carving is the most popular craftsmanship in the state of Uttarakhand. An elaborately crafted wooden entry gate to each Garhwali home.
The Chandpur fort, Srinagar Temple, Pandukeshwar, Devi Madin, and the Temple of Devalgarh are among the most remarkable wood-carved architecture.
Then there are the fine arts including Miniature Paintings, Aipan, and Peeth. Though Mughal influences the miniature painting, Uttarakhand has its own style of painting, which is known as the Garhwal Style. However, Aipan and Peeth are folk types of art that are typically performed in homes by women.
Both are geometrical in several respects, with "Geru" and rice paste. Traditional Uttarakhand ornamentation can be purchased from different state jewelry shops made of gold, silver, copper, beads, semi-precious stones, and lacquer.
4 types of Arts and crafts in Uttarakhand
Arts and Crafts of Uttarakhand can be broadly divided into 4 parts from all over the regions. This part of Heritage in Uttarakhand needs to be preserved by this generation and it needs more involvement by the government of Uttarakhand throughout the regions.
1. Paintings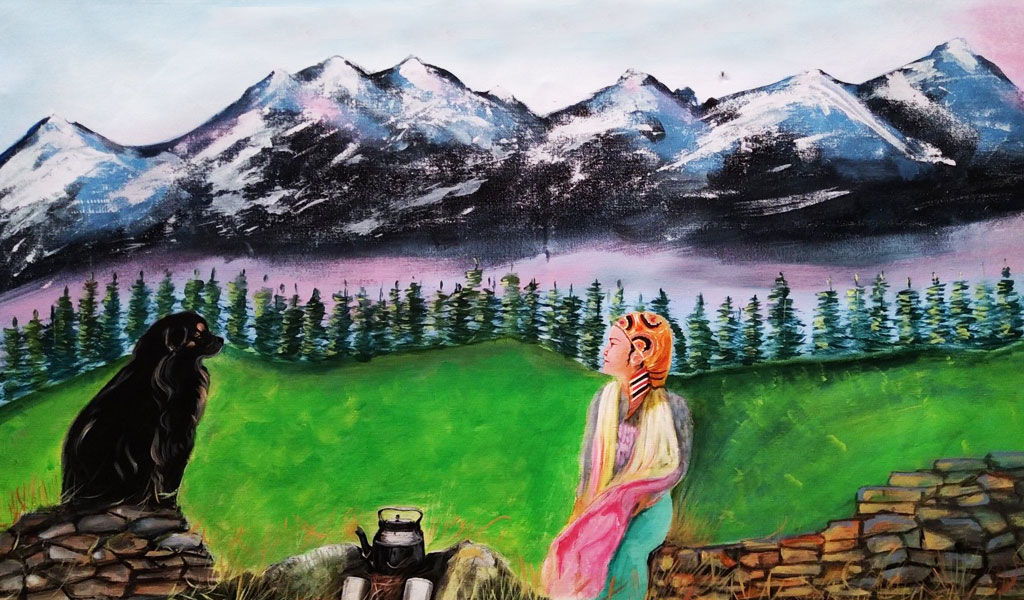 Garhwal contains the Garhwal School of Art, which is one of the most beautiful and distinguishing 'Gharanas.' After being introduced by Mughal prince Suleman Shikoh, the Mughal style of painting became very well known in Uttarakhand.
Mola Ram has created a new painting style, which has a romantic charm in the paintings with his poems included. He was a then very renowned poet and painter.
The following paintings are part of the well-known masterpieces of the Garhwal School- Krishna painting the feet of Radha, Kaliya Daman, Illustrations of Gita Govinda, Illustrations of Ramayana (1780 A.D), Utkal Nayika, Celebrations of Balarama's birthday (1780 A.D), Abhisarika Nayika, Varsha Vihar, Series of Ragini's, Radha looking into a mirror.
2. Murals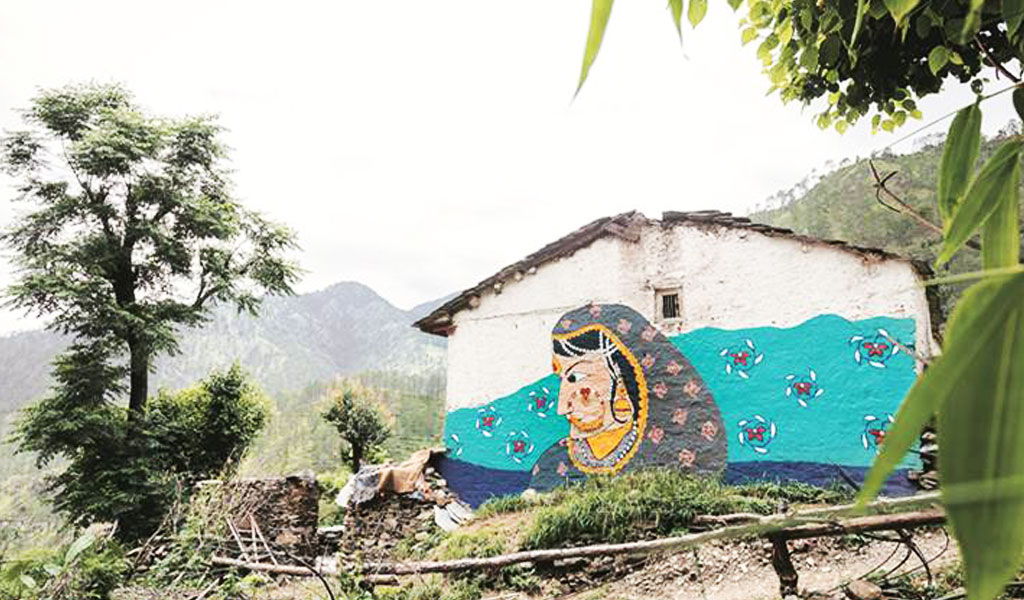 Uttarakhand's fine arts are simply geometrical, natural, and complex in nature. Almost any place of worship and house, decorated with some sort of wall, is found in the form of Dekaras or Aipan and Peeth.
Lord Shiva's images, known as Dekaras, are taken during the Kartik Sankranti festival, depicting Shiva's marriage with Parvathi, the Himalayan daughter A sacred and old custom is created by Rangoli, a traditional Indian art that exhibits in front of the building.
Aipan is mainly in the state of Uttarakhand traditional type of rangoli. Arts and Crafts of Uttarakhand
is historically and spiritually important in Kumanois life.
2.1 Dekara: Dekara's are the three-dimensional clay versions of the various divinities and are intended for worship purposes only. These idols are made from fine clay and are colored in different colors to make them look more appealing.
2.2 Aipan: They are very much the same but are pronounced as Aipan, Alpana, Arichan, Aripana, Kolam, and Rangoli. Aipan is primarily a miniature painting made on the dheli (floor) next to the house's entrance door and patio. These are created at festivals and several celebrated opportunities in Uttarakhand.
Aipan is a fast-fading art form, along with Peeth, which today contains very few models and designs. An Aipan is made from the base pattern and the pad patterns for rice with 'Geru' or red vermillion paste. This unclad white with deep red gives a lovely contrast.
2.3 Peeth: Peeth is made with a base of rice paste and colorful natural coloring around the seating area of the gods and goddesses.
The main difference between Aipan and Peeth is that for each god or goddess, Peeth uses special designs whereas Aipan uses any design according to the mood of the artist.
Chowki is made of auspicious Mango wood, in the Peeth patterns. The drawings are typically geometrical in design, the interiors of which consist of flowers, animals, divine feet, and trees.
3. Wooden Carving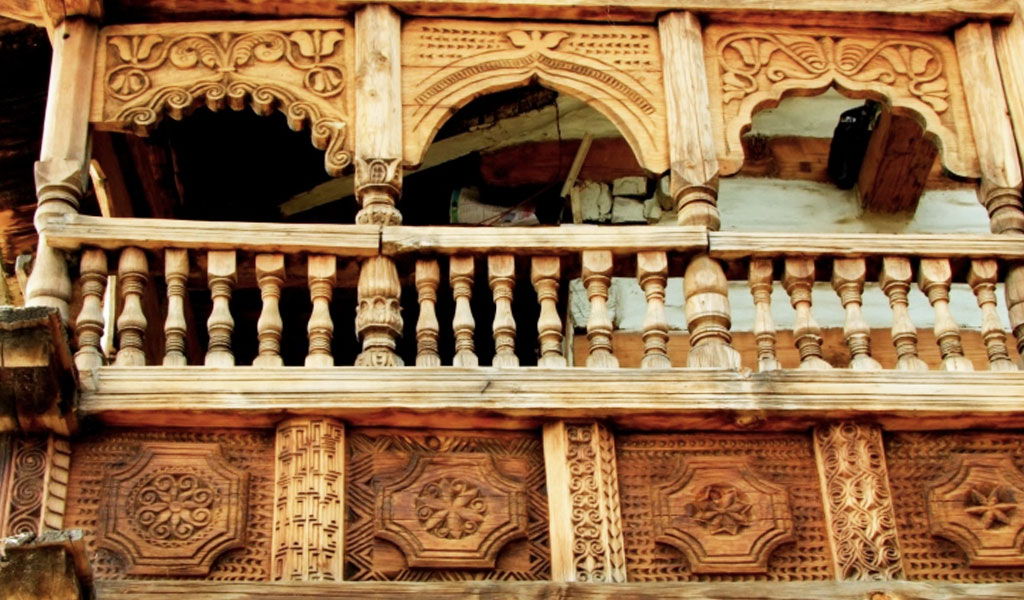 The Garhwal and Kumaon wood carving is known for its simple but delicate and appealing designs. Today, because of the diminishing tree population and environmental issues, the practice of wood carving is nearly ended.
In religious places like temples and homes, rich people can still admire the carved architecture. The architects perfected the art of woodwork and were renowned for their amazing and classy designs. Houses were brilliantly executed and furnished with graven wooden doors mostly during the early days.
Most of those doors of Uttarakhand's houses even today have well-designed and wooden doors. Another very famous art of the beginning was Latticework.
The craftsman used to do specific meshes to fill the windows' open spaces to give it a similar effect to a screen. In previous times, wooden works of art were an indication of one's wealth and prosperity.
The designs were more complex and the sculptures were thus more complicated. Even today, Garhwal and Kumaon's front doors are gloriously decorated with floral patterns, animals, and birds. These ornamental sculptures of wood on the front doors are in the local language known as 'Kholi.'
4. Temple Architecture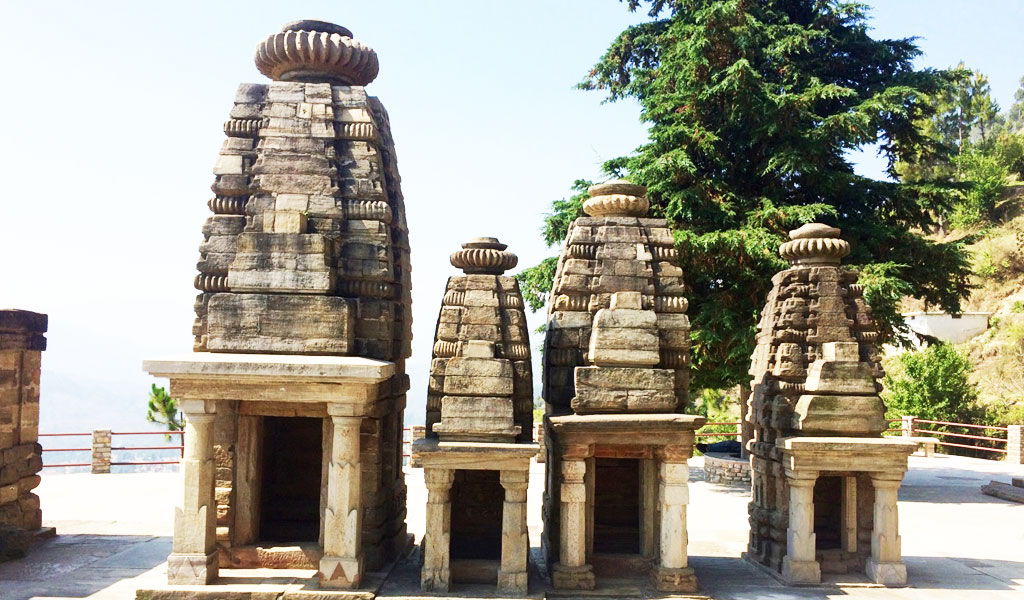 Uttarakhand has some lovely temples to visit. Paun, Katuyari, Pawar, and Chand dynasties are the rulers under whom the temples thrived. They also encouraged the building of large stone temples, wooden gravures, decorations, pattas, and Aipen.
These temples consist of large stone walls that are decorated with different ornamental sculptures and metal idols. These temples were also a place to meet with intellectuals. People gathered and displayed their best artworks, and poems, while experts and poets discussed philosophical questions.
Shrines in Uttarakhand
were generally constructed in Nagaras architecture or the Garhwali architecture style in Uttaranchal. The Architectural Style of Nagara is simple but remarkable with the long curvilinear 'Sikhara' spiral with 'Amalaka' above the spiral.
The "Kalasha" pattern is the coronet of the carved Sanctum Sanctorum gateway. The temple in the style of Garhwali typically had a lotus roof, a lion standing over its elephant overlooking the lower Sikhara.
Typically in the Punch Rath or Sapta Rath model, this Sichara covers the audience hall which gives the temple a cylindrical shape. The dynasties of Uttarakhand built large temples of stone and wood, decorated with Peeth and Aipan designs.
The deity statue was made of steel or metal and adorned with the best clothes and ornaments that could be found in the region.
The Chandpur Fort, Temple of Srinagar (Garhwal), Pandukeshwar (near Badrinath), Devi Madin (near Joshimath), and Devalgarh Temple are the most notable wood-carved architectural wonders. Following that are the fine arts, which include Miniature Paintings, Aipan & Peeth. 
Hope you enjoyed reading this
Blog